This Storage Magazine review documents the findings of hands-on testing of StorMagic SvSAN 5.2 within a Microsoft Hyper-V environment and standard Dell PowerEdge servers.
Taking a look at some of the key features in the new 5.2 build, Storage Magazine also highlights SvSAN 5.2's support for Microsoft's System Centre Operations Manager (SCOM) through a new management pack and system management provider.
Storage Magazine's verdict:
StorMagic SvSAN was described as a lean product running in Hyper-V or VMware vSphere, capable of high performance and 'delivering zero downtime'. Businesses can create high availability at low cost without tie in to a single vendor.
In their final verdict, Storage Magazine said:
"During our testing we found StorMagic's SvSAN remarkably easy to manage and capable of delivering zero downtime for critical storage. It provides an elegant and highly cost-effective resilient storage solution ideally suited to deployment in remote locations such as ROBOs and even in the field."
Complete the form below to read the full Storage Magazine review and to learn how SvSAN, the most cost-effective virtual storage solution for remote sites, allows you to ensure uptime while eliminating physical SANs and reducing server and software spend.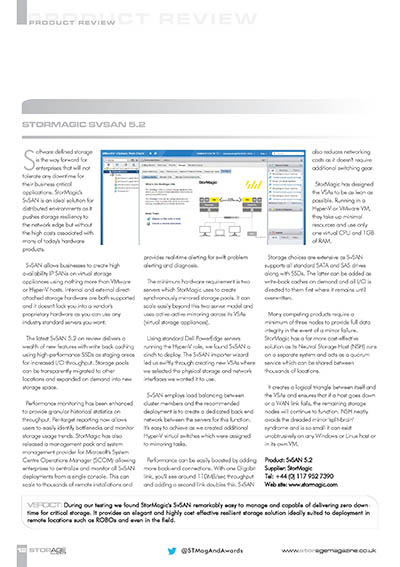 By clicking download above, you consent to allow StorMagic to store and process the personal information submitted and for StorMagic to contact you via telephone and email in relation to the content requested.
StorMagic is committed to protecting and respecting your privacy, and we'll only use your personal information to provide the products and services you requested from us. You may unsubscribe from StorMagic marketing communications at any time. For more information on how to unsubscribe, our privacy practices, and how we are committed to protecting and respecting your privacy, please review our Data Protection Policy.