A digital world creates digital evidence
Digital evidence is everywhere. It can be generated as part of an original event from the information contained on and accessed by electronic devices, such as images, sites, texts, emails, documents, and more. It can be part of witnessing and recording an event, including video, audio, and images from surveillance cameras and smartphones. And it can be part of the response and investigative process, including information from body-worn cameras, in-car video and audio systems, and interview rooms. With the proliferation of digital technology leading to the proliferation of digital evidence, modern law enforcement, public safety agencies, and prosecutors are faced with both opportunities and challenges to gather, store, analyze, maintain, and secure their digital evidence so that its value and desired outcomes are realized.
This solution brief provides a detailed description and analysis of ARQvault's Digital Evidence Management solution, exploring each key feature and benefit in turn, with detailed diagrams and screenshots. ARQvault Digital Evidence Management solutions consist of ARQvault, the first Active Intelligent Repository, and any of the accompanying modules: File Ingest, In-Car, Body Cam and/or Interview Room.
Complete the form below to read and download the full solution brief.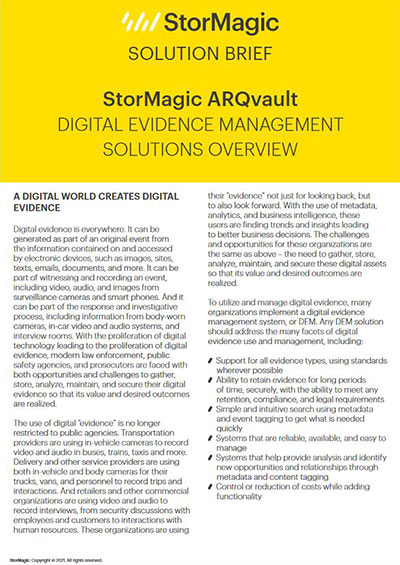 By clicking download above, you consent to allow StorMagic to store and process the personal information submitted and for StorMagic to contact you via telephone and email in relation to the content requested. StorMagic is committed to protecting and respecting your privacy, and we'll only use your personal information to provide the products and services you requested from us. You may unsubscribe from StorMagic marketing communications at any time. For more information on how to unsubscribe, our privacy practices, and how we are committed to protecting and respecting your privacy, please review our Data Protection Policy.
More white papers from StorMagic: