There is more digital media content being created than ever before. 4K, 8K, ultra hi-def, podcasts, spatial audio, and many other formats, platforms, and future advancements to come mean there is no end in sight for this content explosion. The challenge is how best to curate, manage, and retain all this content for the creators, caretakers, and monetizers of these valuable assets. From corporate, agency, and brand assets to studios, producers, and broadcasters of all types, the need for complete digital and media asset management solutions is critical.
This solution brief provides a detailed description and analysis of ARQvault's Media and Entertainment solution, exploring each key feature and benefit in turn, with detailed diagrams and screenshots. ARQvault Media and Entertainment solutions consists of ARQvault, the first Active Intelligent Repository, and the ARQvault File Ingest module.
Complete the form below to read and download the full solution brief.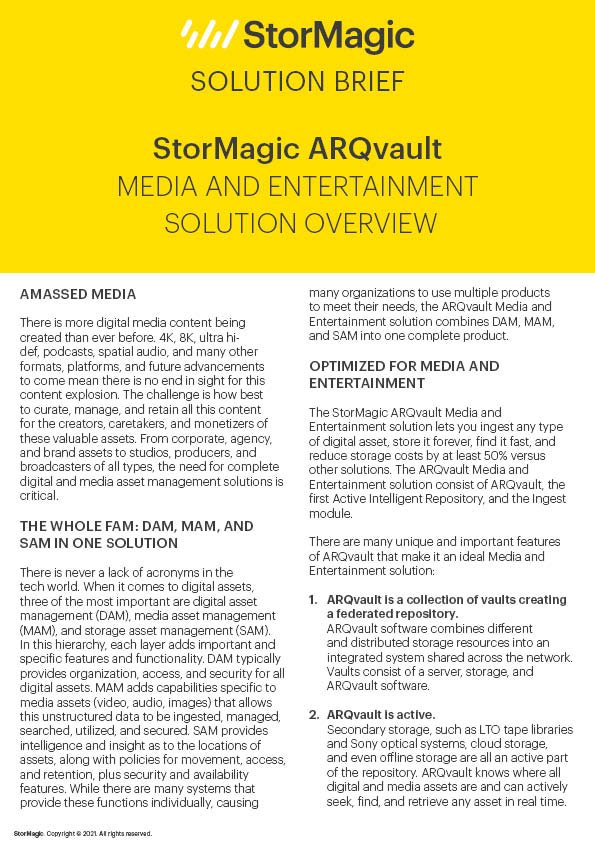 By clicking download above, you consent to allow StorMagic to store and process the personal information submitted and for StorMagic to contact you via telephone and email in relation to the content requested. StorMagic is committed to protecting and respecting your privacy, and we'll only use your personal information to provide the products and services you requested from us. You may unsubscribe from StorMagic marketing communications at any time. For more information on how to unsubscribe, our privacy practices, and how we are committed to protecting and respecting your privacy, please review our Data Protection Policy.
More white papers from StorMagic: