ARQvault VMS provides configurable live view settings, a massively scalable and customizable video wall, and numerous camera controls to get the most out of your video surveillance as it happens
Capture video just about anywhere
Supports any ONVIF or RTSP-enabled IP camera, more than 5,300 certified cameras, and ingest from another VMS.
Automatically ingests video and detects any supported IP camera.

Ingest existing video, audio, and images with File Ingest add-on.

Runs on any x86 server and works with any type of storage.

Scales easily – add additional cameras, vaults, or sites in any location at any time.
Full-featured live viewing, massively-scalable video wall
ARQvault VMS provides multiple different layout configurations for viewing live video streams.
You can view up to 36 cameras on a single monitor (6×6) or customize the layout to view your cameras per monitor.

Set patrols so groups of cameras are cycled through during the live view and have multiple live viewing windows open at the same time.

Layouts and patrols can be placed on different live view windows so you can maximize the amount of cameras to view at once.

You can also use the multiple windows to view just one camera each so you have the largest display possible.

ARQvault VMS video walls can support thousands of monitors with multiple layouts and use an intuitive, easy to use, drag and drop interface to setup your preferred configurations.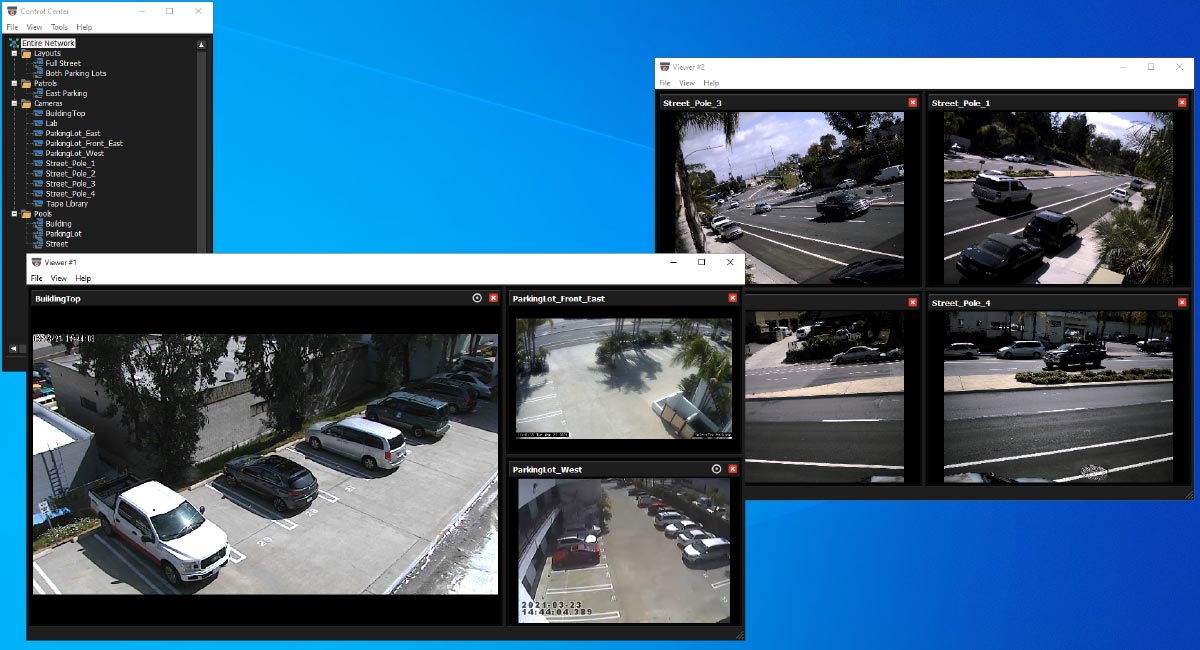 Camera controls
Numerous settings provide controls for cameras, layout configurations, creating and utilizing patrols, camera pooling, and multi-camera video playback.
Screen pops and actions are generated easily from programmable and analytics-based alerts and triggers.

You can operate and manage multiple sites from one central location or from multiple locations.

You can create camera pools based on any criteria and directly control mechanical and digital PTZ cameras.

Grouping cameras based on location makes live viewing an incident from multiple angles much easier.

Camera pools can also be used during search so that only video from that pool is shown in search results.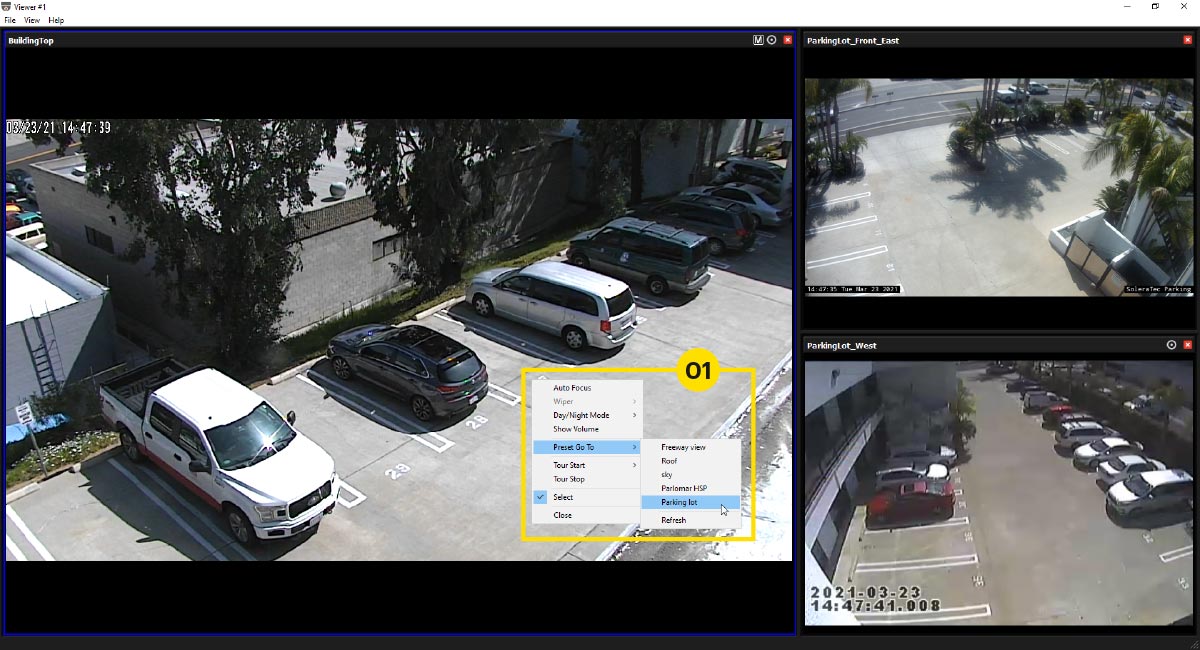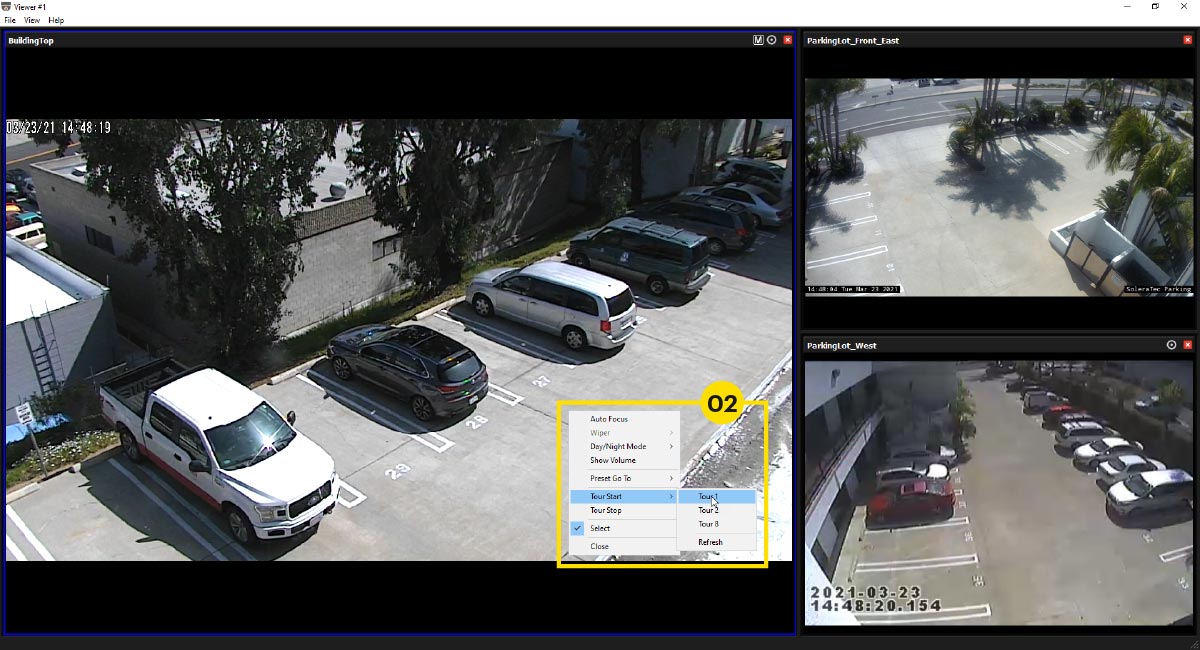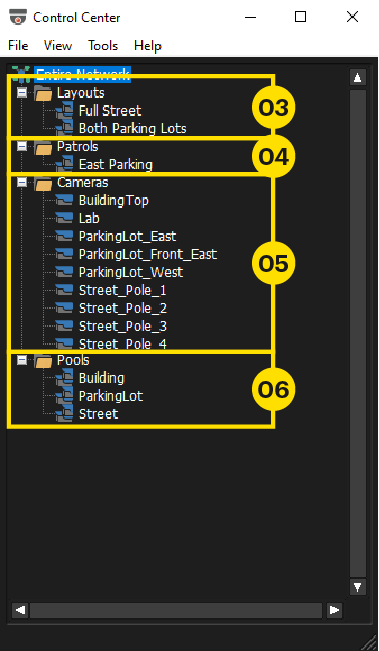 03 – Create custom saved layouts/views of cameras. Double-click and the new viewer window opens with cameras loaded for viewing.
04 – Patrols are for cycling through multiple cameras in single viewing window.
05 – All cameras configured in the ARQvault system for live viewing.
06 – Camera pools are groups of cameras configured in Camera Policies.