ARQvault VMS
Video at and from the edge is

significant
Keep yours actionable with StorMagic ARQvault VMS
Benefits
StorMagic ARQvault VMS is the most cost-effective way to capture, use, and retain surveillance video.
Provides flexible live-views and a massively scalable video wall
Is easy to use and manage
Retrieves video fast and reduces network congestion
Provides simple, yet powerful, intuitive search using metadata
Retains video securely to meet retention, compliance, and legal requirements
How ARQvault Works
The enabling architecture for ARQvault VMS is the ARQvault Active Intelligent Repository (ARQvault AIR), which was purpose-built to manage video and other unstructured data. Ideal for capturing, using, and retaining video, ARQvault is an:
Active: all storage is an active part of the repository – ARQvault VMS knows where all video is stored and actively seeks, finds, and retrieves any video in real time, no matter its age or location.

Intelligent: ARQvault VMS uses policies to move video to different storage tiers, creates low-resolution proxies for fast retrieval, and uses metadata and analytics integration for rich analysis.

Repository: a collection of vaults creates a federated repository. ARQvault VMS software combines different and distributed storage resources into an integrated system for video shared across the network. Vaults consist of a server, storage, and ARQvault VMS software.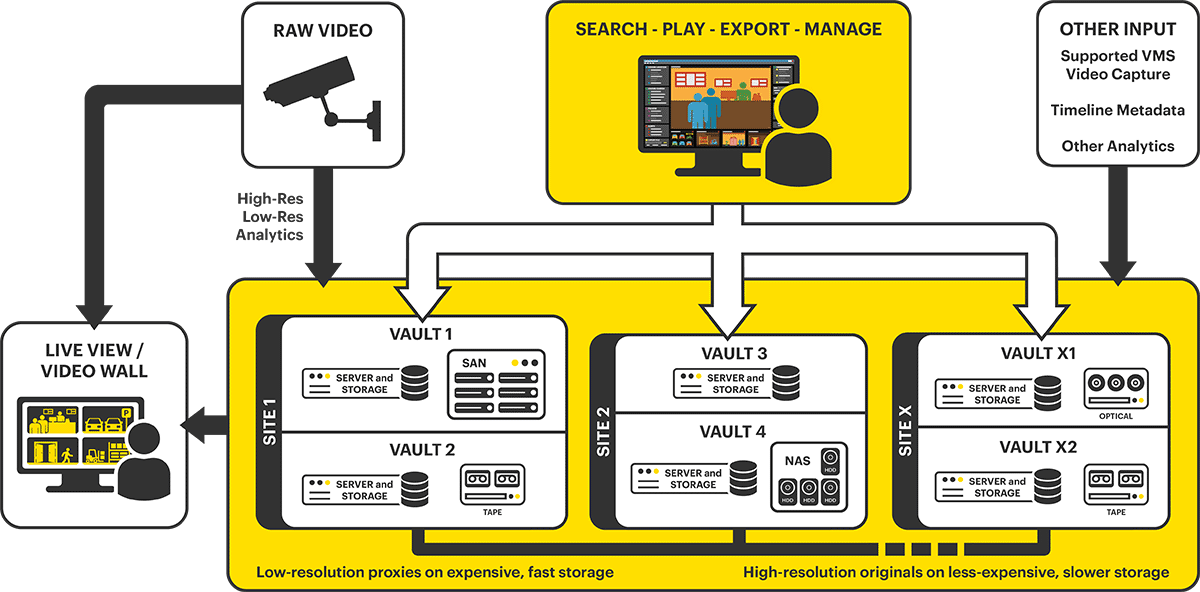 All StorMagic products are flexible, robust, simple to use, and cost-effective