What is Hyperconvergence?
Hyperconvergence is a term used to describe the consolidation of computing, networking, and storage resources, into a single, streamlined datacenter architecture. Traditional datacenter architecture requires specialist hardware, with each piece designated for a specific function, whereas hyperconverged infrastructure (HCI) utilizes simplified hardware and software components. The goal of hyperconvergence is to virtualize the datacenter environment and remove complexities, by reducing the amount of hardware needed to operate.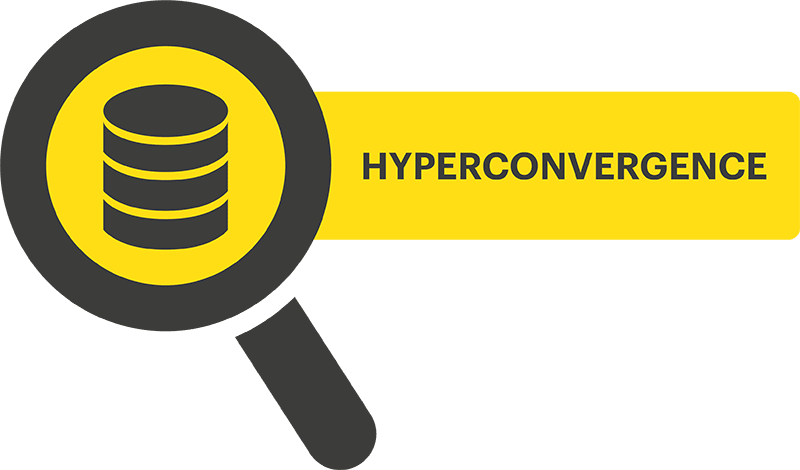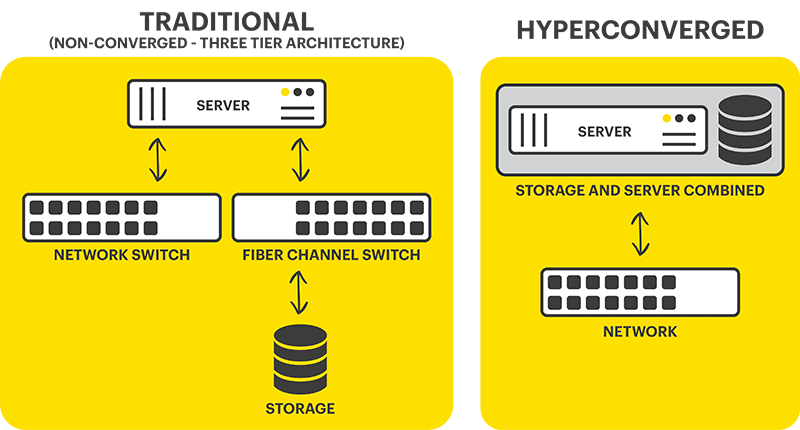 How Does Hyperconvergence Work?
Historically, separate components were required for storage, compute and networking, often referred to as a "three-tier architecture." Legacy servers were installed to run specific applications, SAN and/or NAS boxes were utilized for storage, and networking required its own separate device as well. Server and storage virtualization were non-existent.
Hyperconverged infrastructure converges those traditional datacenter hardware components into a single virtualized appliance, controlled by a software layer. It typically consists of industry-standard x86 servers, a hypervisor, and software-defined storage. Operating functions are distributed across the cluster by software running on each server node.
What Are the Benefits of Hyperconvergence?
By combining all the elements of a traditional datacenter into a single architecture, hyperconvergence helps many businesses achieve superior performance, resiliency, and protection. Additional benefits of hyperconvergence include:
Easy Scalability
Hyperconverged infrastructure is incredibly agile, enabling businesses to easily expand as demands increase. They can scale up or scale out their infrastructure by simply adding more nodes, without having to worry about deploying additional hardware, or storage/compute capacity.
Eliminates Complexities
With HCI, storage, network and compute are all virtualized, enabling operations and upgrades to be facilitated via automation and centralized management. With everything under a single umbrella, HCI removes complexities within the datacenter, allowing for simple upgrades and scaling, and also reduces the number of IT vendors you have to work with.
Cost-Effective
Hyperconverged infrastructure is affordable, because it runs on low-cost commodity hardware, versus expensive legacy hardware used in traditional datacenter architecture. It decreases CAPEX and OPEX spending by limiting physical hardware requirements (i.e. power, cooling, space) and the amount of bandwidth needed to operate. It also reduces the need to hire specialist IT support to manage the system, which can be pricey.
StorMagic Recognised in Gartner Magic Quadrant
for Hyperconverged Infrastructure
Hyperconvergence and Edge Computing
Any IT site located outside the datacenter or cloud can be classified as an edge environment. Sites that are too remote or dispersed to adopt a centralized datacenter or cloud system for controlling data and applications are operating on the network edge. Edge computing is the technology that sits in these remote sites and carries out work.
Remote and branch offices, retail stores, government agencies, manufacturing sites, travel and tourism organizations, and industrial IoT are all considered edge computing environments. These types of organizations are typically faced with challenges of limited IT staff and physical space at their locations, unreliable network connectivity, and restricted budgets, as they have tens, hundreds or even thousands of sites and need to keep individual site costs to a minimum.
Hyperconverged infrastructure addresses these challenges by decreasing the amount of space, IT support, and budget needed to operate. HCI converges traditional datacenter hardware components into a single virtualized appliance, consuming a much smaller physical footprint. It is easy to operate, eliminating the need for specialist IT support, and is much more affordable as it decreases the amount of expensive, physical hardware needed per site. It delivers superior network performance and resiliency, as software running on each server node distributes all operating functions across the cluster.
SvSAN and Hyperconvergence
StorMagic SvSAN is a virtual SAN solution that delivers simple, cost-effective, flexible storage to edge environments. It provides a key piece to the hyperconverged infrastructure puzzle: the storage virtualization layer. Used in conjunction with a hypervisor, SvSAN enables highly available virtualized storage, while the hypervisor handles the compute and overall virtualization of the HCI.
Benefits of utilizing SvSAN within an HCI environment, include:
More about Hyperconvergence from StorMagic:
Share This Post, Choose Your Platform!