What is Software-Defined Storage?
Software-defined storage (SDS) is a form of storage virtualization. It significantly improves the simplicity and flexibility of data storage management by introducing a software layer, independent from the physical storage hardware (i.e. disks and SSDs). Subsequently, software-defined storage solutions allow more freedom in managing the way data is stored and retrieved.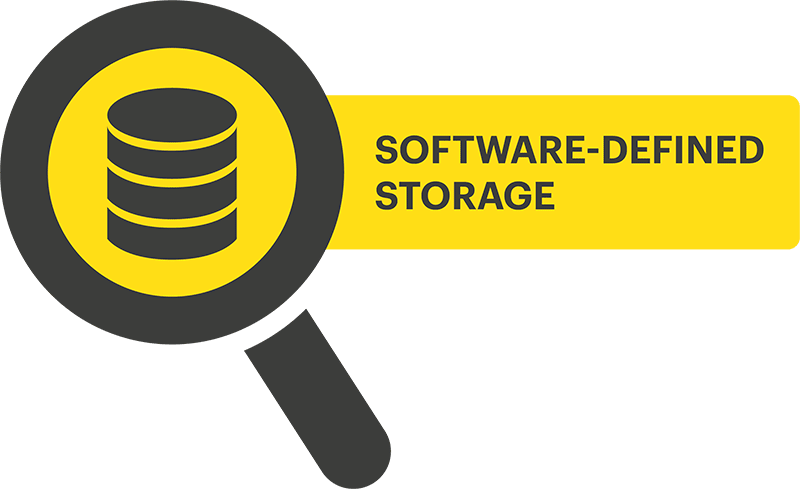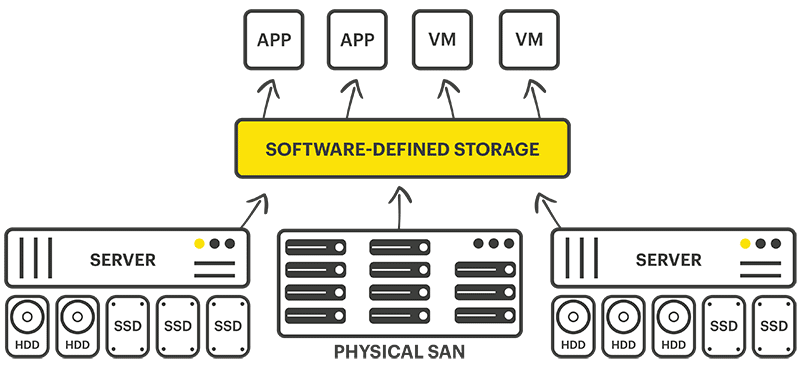 How Does Software-Defined Storage Work?
As a software-based architecture, SDS removes co-dependency between your applications and the underlying hardware. It acts as a layer within your IT infrastructure, that operates on top of commodity resources, rather than through brand-specific, expensive hardware. Disks and servers can be mixed and matched, without each requiring their own dedicated software. Likewise, application software can be updated or changed without a full storage hardware overhaul.
SDS virtualizes the management of storage requests, rather than the storage itself. Through virtualization, it can enable features such as replication, automated provisioning, deduplication, backup, and snapshots.
What Are the Benefits of Software-Defined Storage?
Reduced costs
Unlike traditional network-attached storage (NAS) or storage area network (SAN) solutions, with SDS you aren't locked into joint hardware and software combinations from specific vendors. There's no need to drain your budget with expensive bundles – simply make use of your existing storage or server hardware.
Easy scaling to meet future demand
With storage resources abstracted from the hardware, scaling out physical storage capacity is far easier. SDS streamlines your environment, enabling the latest storage management features to be leveraged as required, without having to introduce additional resources.
Get agile
In an ever-evolving business landscape, it pays to be adaptable. SDS brings with it a level of flexibility, unmatched by traditional storage infrastructure. It allows an organization to dynamically provision and optimize storage resources. This provides the control and agility to adjust to new trends and requirements.
Streamlined management
Traditional storage infrastructure can leave you with a mishmash of disparate systems that don't communicate with each other. SDS works to consolidate these isolated silos, uniting them under a standardized management system, thereby maximizing efficiency.
Software-Defined Storage for Edge Computing
Businesses are beginning to decentralize their data processing, moving it closer to where their data is generated. This process has become known as edge computing. Among other benefits, edge computing reduces network latency and congestion issues, as well as improves application performance.
However, decentralization can come at a cost; each edge site will have its own unique requirements. Traditional solutions can be prohibitively expensive and inefficient in this kind of environment where simplicity and flexibility are crucial.
SDS addresses these issues by simplifying on-site deployments. It enables lightweight, low-cost storage clusters that are powerful enough to support on-site applications and data, while minimizing downtime. Simply put, SDS can make edge computing feasible and affordable.
SvSAN – Software-Defined Storage Built for the Edge
StorMagic SvSAN is a virtual SAN solution, based on software-defined storage. It is the perfect fit for edge computing environments, as it is very simple to install and manage, incredibly affordable, and adaptable to meet diverse requirements. Learn more about the benefits of deploying SvSAN at the edge below:
More about SDS from StorMagic:
Share This Post, Choose Your Platform!