Customers can Capture, Store, and Find Data Forever while Reducing Storage Costs by 50%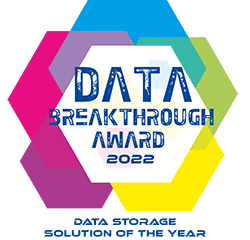 BRISTOL, England – 24 March, 2022 – StorMagic®, solving the world's edge data problems, today announced that its solution ARQvault, the first active intelligent repository, has been named the Overall Data Storage Solution of the Year in the 2022 Data Breakthrough Awards. The Data Breakthrough Awards program recognizes the most outstanding data technology solutions, services and companies in this new era of digital data.
StorMagic ARQvault provides a complete digital asset, media asset, and storage asset management solution. The ARQvault Active Intelligent Repository (AIR) architecture was purpose-built to manage unstructured data and is ideal for capturing, storing, using, and managing video. Its automated tiering, low-resolution proxies and active intelligent repository features reduce storage costs by half compared to competing solutions.
With over 2,000 nominations this year, the program named winners around the world in a range of categories, including Data Storage, Data Analytics, DataOps Business Intelligence and others. Data Breakthrough is part of the Tech Breakthrough organization, a leading market intelligence and recognition platform for technology leadership and innovation in today's hottest and most competitive categories of technology.
"Innovative data solutions are essential to control the ever-increasing volume of data generated at the edge. This data is valuable and must be protected and managed, potentially forever," said Bruce Kornfeld, StorMagic's Chief Marketing and Product Officer. "Through ARQvault and our other forever data solutions, StorMagic acts as a partner to help our customers store, protect, and use their data at and from the edge. We are honored to be recognized as the Overall Data Storage Solution of the Year in this year's Data Breakthrough Awards program."
This coveted recognition builds on a list of recent industry accolades for ARQvault, which was also named a Finalist in TechTarget's 2021 Products of the Year Awards, a Finalist in the 2021 CRN Tech Innovator Awards, and a Runner Up in the 2021 SDC Awards.
Additional Resources
To learn more about StorMagic, please visit www.stormagic.com.
###
About StorMagic
StorMagic is making the complex simple for edge computing environments and leading the industry in bringing the edge to the core. Our storage and security products are flexible, robust, easy to use and cost-effective, without sacrificing enterprise-class features, for organizations with one to thousands of sites. SvSAN is a highly available two-node virtual SAN designed for hyperconverged edge and small datacenter sites. SvKMS is an encryption key manager for edge, datacenter and cloud. ARQvault is the first active intelligent repository and gathers data anywhere, stores it forever, and finds it fast. StorMagic customers around the world have deployed our solutions in thousands of sites to store, protect and use edge data and significantly lower costs. Visit https://stormagic.com/.
Join the Conversation
Follow StorMagic on Facebook, Instagram, LinkedIn and Twitter, and subscribe to our corporate blog and YouTube channel.
All product and company names herein may be trademarks of their registered owners.
Contact:
Zoe Cushman
[email protected]
Share This Post, Choose Your Platform!
Recent News
BRISTOL, England – 28 March, 2022 – StorMagic®, solving the world's edge data problems, today announced it is being celebrated by CRN®, a brand of The Channel Company, with a [...]
Customers can Capture, Store, and Find Data Forever while Reducing Storage Costs by 50% BRISTOL, England – 24 March, 2022 – StorMagic®, solving the world's edge data problems, today announced [...]
Company Grew OEM Revenue by 100 Percent and Added 25 Percent More Video Surveillance Partners in Twelve Months BRISTOL, England –7 February, 2021 – StorMagic®, simplifying storage and security from [...]