What is a VMS?
A Video Management System (VMS) – also known as video management software or video surveillance management system – is an integral component of an organization's security infrastructure. It enables businesses to capture, record, store, retrieve, view, and analyze video collected from their surveillance cameras.
A VMS is an important tool to have nowadays, as surveillance cameras are now being utilized across many different industries. A VMS not only helps organizations manage their surveillance system cameras and keep an eye out for suspicious activity, but also review and analyze their recorded video to uncover valuable insights. For example, retail stores can now utilize video analytics collected through their VMS to track customer behavior, long checkout lines, and dwell time, allowing these stores to improve their customer experience and enhance their bottom line. While video surveillance is still commonly used under circumstances regarding safety, other departments are also beginning to realize its value.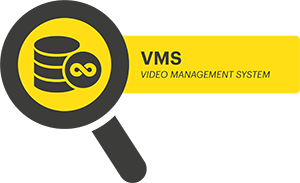 How Does a VMS Work?
A VMS is a software component within a security camera system, commonly used to consolidate disparate pieces of that system (i.e. cameras, encoders, recording systems, storage infrastructure, analytics software) into a single pane of glass. It amalgamates the functionality of several different video surveillance tools, into a single, unified solution.
In short, a VMS works by collecting video, both live and recorded, from network surveillance cameras. It then stores that video to dedicated data storage media (on-premises, external locations, or in the cloud), based on automated policies, pre-determined by the organization. When an employee needs to access surveillance video, the VMS provides an interface for retrieving and viewing both recorded and live surveillance footage. Some VMS solutions even have the ability to tag surveillance video with metadata, making it fast and easy to retrieve down the line, through intelligent search.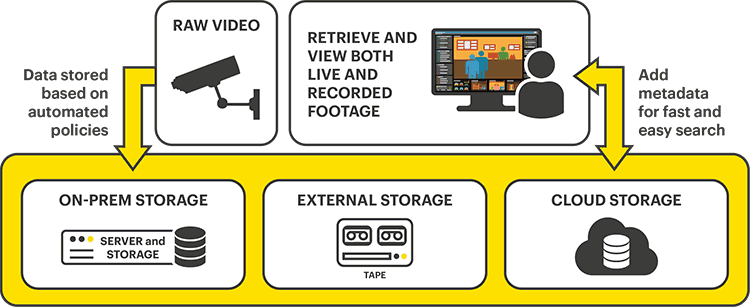 Video management systems often come equipped with unique features and capabilities, to provide additional security functionality and support video analysis. For example, they may have a motion detection function, so that cameras only record when motion is detected. This reduces the amount of video that needs to be recorded, taking up less storage space and camera resources. Another example of a unique VMS feature is license plate detection. This comes in handy for organizations monitoring parking garages, parking lots, roads, highways, or other transportation facilities and avenues. It can be used by law enforcement to track the location of a vehicle over time, to determine when an individual was in a specific location.
What Are the Benefits of Utilizing a VMS?
StorMagic ARQvault Video Surveillance Solutions
StorMagic ARQvault is the industry's first Active Intelligent Repository. It enables customers to gather video from anywhere, store it forever, and find it fast. It also allows organizations to save at least 50% on storage, by automatically moving video to the most cost-effective type of storage, anywhere.
ARQvault Video Surveillance Solutions consist of ARQvault and the ARQvault VMS or VMS Connectors module. The ARQvault VMS module provides a complete video management system, with features like live viewing, video wall, and camera configuration, as well as third-party analytics integrations (i.e. license plate and facial recognition).
The ARQvault VMS Connectors module enables users to connect to an existing VMS to ARQvault storage. It allows organizations to integrate with video management systems like Milestone, Exacq and Qognify, while still being able to utilize the capabilities (i.e. policies, automated tiering, intelligent search) and low storage costs provided by ARQvault.
StorMagic's ARQvault Video Surveillance Solutions deliver a number of user benefits. They are intuitive and simple to use, can support thousands of cameras, and are secure and always available. ARQvault automatically moves video to different tiers of storage and keeps all video instantly accessible, as an active part of the solution. It also utilizes metadata extensively to make videos quickly searchable, and provides insights and associations for additional business value.
Interested in learning more? Visit our StorMagic ARQvault Video Surveillance web page and download a copy of our solution brief and data sheet for additional information. You can also reach out to our sales team at [email protected] with any questions about our ARQvault solutions.
Share This Post, Choose Your Platform!