The First Complete Edge-as-a-Service Solution
Hivecell HCI is an innovative platform-as-a-service solution for hyperconverged infrastructure (HCI). Hivecell HCI orchestrates, monitors, protects, and manages virtual machines (VMs) at the edge and includes StorMagic SvSAN to provide uptime via highly available storage. Hivecell HCI is the first complete Edge-as-a-Service (EaaS) solution.
The Data Is at The Edge
It is estimated that there is three times more data at the edge than in the cloud. However, it is infeasible, if not impossible, to move all the edge data to the cloud or datacenter for processing. It is best to process data as close to the source as possible and push only business-relevant data to the cloud or datacenter. Data processed at the edge can provide better and more immediate insight, decision making, and results at the source, where that particular data is most relevant. Processing data at the edge can also improve:
Security: some data is considered too sensitive to move across the internet to the cloud, even if encrypted and in a virtual private cloud
Compliance: there are regulations in many countries that dictate where and how data can be stored which prevents using the cloud
Bandwidth: some data is so large that it is not feasible to move it from its source to the cloud
Latency: in some situations the network latency of moving data to the cloud and back again is impractical or even dangerous
Reliability: system safety or business continuity may demand local processing of data to avoid possible network outages
Cost: moving very large amounts of data across the internet and storing in the cloud can be expensive
Computing at the edge provides many benefits, but there are also challenges, which requires a holistic approach – a true edge computing solution.

Processing Power and High Availability at The Edge
Hivecell HCI (with integrated StorMagic SvSAN) is the first complete Edge-as-a-Service solution. Designed specifically for edge installations with limited IT resources, many locations, and/or challenging environments, Hivecell HCI provides a simple, robust, and flexible solution that brings computing to the edge, with high availability storage, as a subscription service.
Edge-as-a-Service (EaaS) – Nothing to Own or Maintain
Hivecell HCI is a subscription service that includes:
Provisioning / monitoring system
Framework licenses / support / upgrades
Operating system license / support / upgrades
Hardware service / support / replacements
Hardware upgrades
Hivecell Perimeter Specifications
Processor
x86-64 (Intel® Atom™ C3758), 8 cores, 2.2GHz, 16MB cache
Memory
32GBytes DRAM
Networking
3 Ethernet ports:

• 2 ports x 1 Gbit Ethernet for connection between Hivecells in stack through patented Baranovsky connectors

• 1 port x 1 Gbit Ethernet on back panel for connection to local network (standard RJ-45 connector)

• Wi-Fi: 100Mbit for customer application high availability

Storage
1 NVMe – 1TB
Built-in battery backup
30 minutes of average load
Max power consumption
65W
Hivecell Horizon compatible connection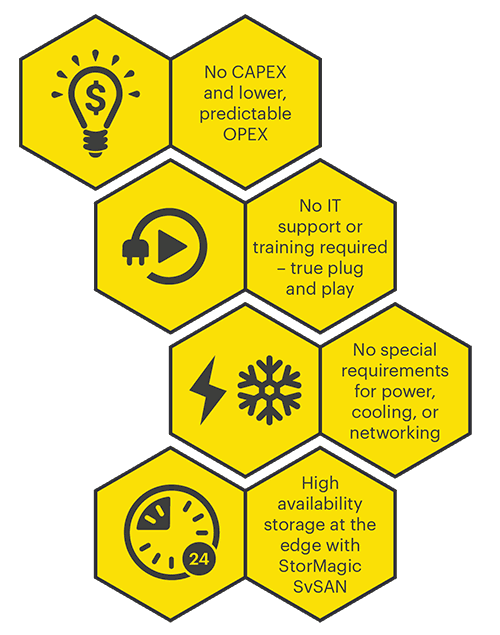 Hivecell HCI Features and Benefits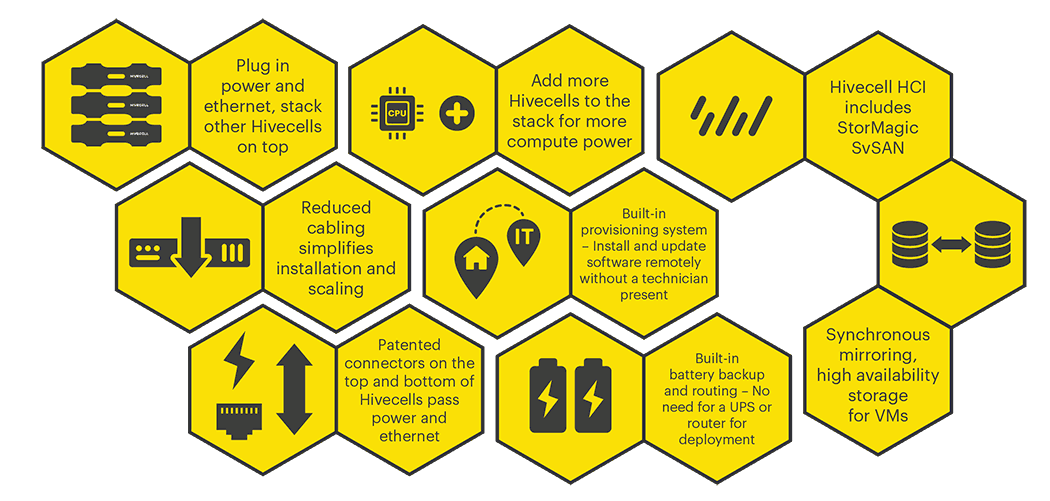 HCI Configuration and Specifications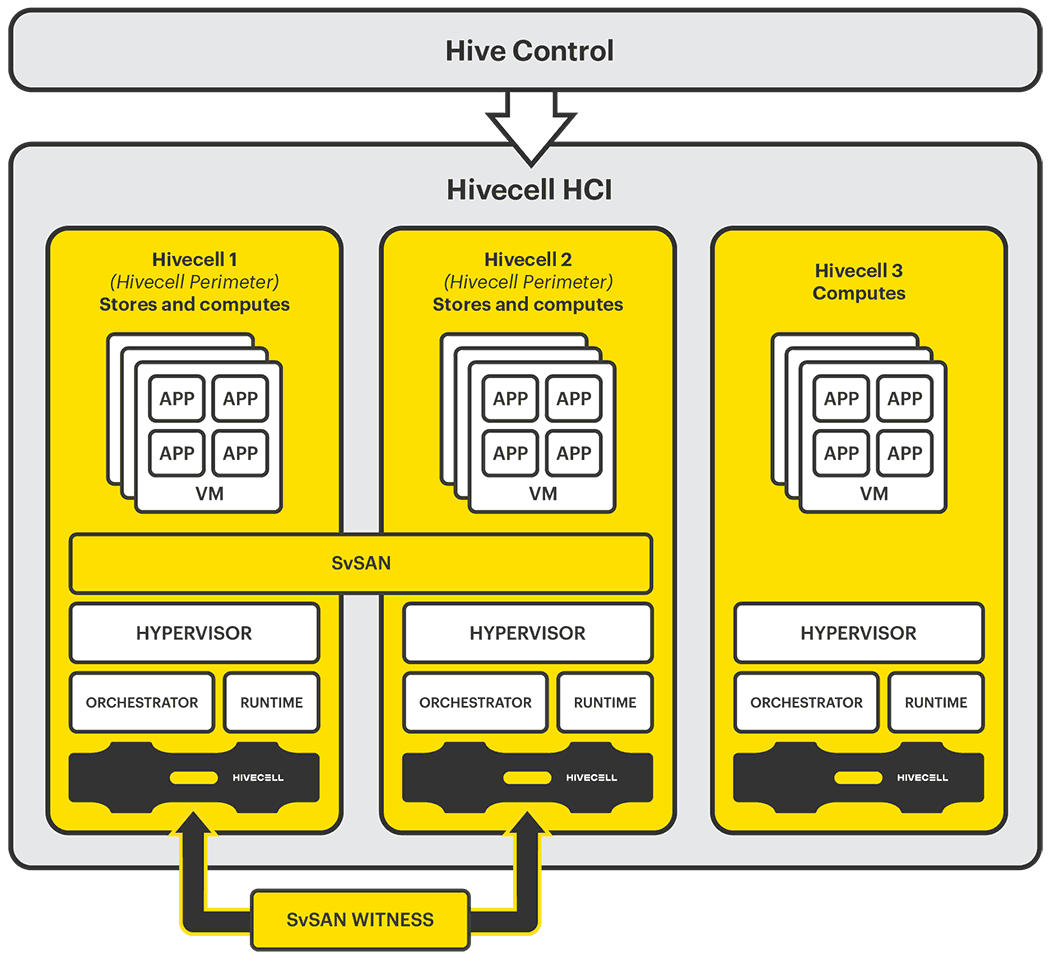 Support
Hivecell Support & Maintenance assists customers in the Hivecell HCI setup, hardware and software updates, and any other request-based inquiries. The available communication channels include chat, email, and meetings.The customers also receive access to the product knowledge base that provides everything they need for productive and efficient work with all Hivecell services.If you would like to receive more information about the support available at Hivecell, please contact them at [email protected]
Download the Hivecell HCI data sheet:
Share This Post, Choose Your Platform!
More data sheets from StorMagic: