Surveillance video use is prevalent and powerful
The use of video surveillance systems is growing at significant rates, with 10%+ annual growth rates expected over the next few years. Surveillance is no longer just a tool "in case something bad happens," but a tool for insight and analysis for organizations of all types, from retail to commercial, public and private. But with opportunity comes challenges. More and more cameras in more and more sites with higher and higher quality creates an explosion of video data. Ideally, you want to record continuously, which creates even more video. And evolving retention, compliance, and legal requirements mean you need to retain video for longer periods of time, if not forever.
This solution brief provides a detailed description and analysis of ARQvault's Video Surveillance solution, exploring each key feature and benefit in turn, with detailed diagrams and screenshots. ARQvault Video Surveillance solutions consists of ARQvault, the first Active Intelligent Repository, and either the ARQvault VMS or VMS Connectors module.
Complete the form below to read and download the full solution brief.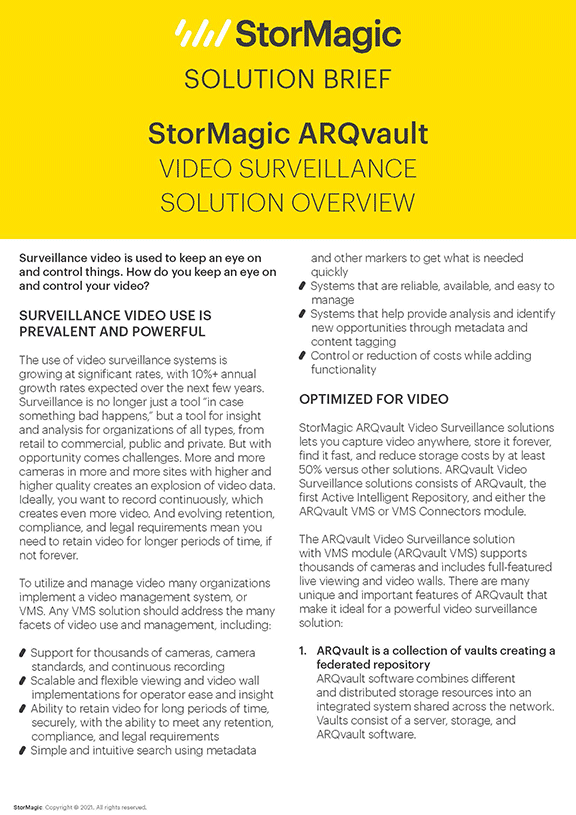 By clicking download above, you consent to allow StorMagic to store and process the personal information submitted and for StorMagic to contact you via telephone and email in relation to the content requested.
StorMagic is committed to protecting and respecting your privacy, and we'll only use your personal information to provide the products and services you requested from us. You may unsubscribe from StorMagic marketing communications at any time. For more information on how to unsubscribe, our privacy practices, and how we are committed to protecting and respecting your privacy, please review our Data Protection Policy.
Share This Post, Choose Your Platform!
More white papers from StorMagic: