In July 2021, Quantum purchased Pivot3, a hyperconverged and video surveillance systems company. Under Quantum's new ownership, Pivot3's HCI video surveillance technology was adopted and renamed to Quantum VS-HCI Series.
StorMagic ARQvault, the industry's first Active Intelligent Repository, enables organizations to gather video anywhere, store it forever, and find it fast. It also allows businesses to save at least 50% on storage, by automatically moving data to any type of storage, anywhere. ARQvault is designed and optimized for enterprise video surveillance environments, and is capable of running both centrally and in edge locations.
DCIG President and Founder, Jerome Wendt, has authored a new Competitive Intelligence Report, comparing StorMagic ARQvault and Quantum VS-HCI for video surveillance use cases. In this report, Jerome offers a compelling examination and analysis of the key similarities and differences between the two solutions. Key differentiators include:
Economical infrastructure flexibility and scalability
Comprehensive, holistic VMS software
High availability (HA) and scalability at the edge
Download this independent analyst report to read Jerome's analysis of the two products. Discover why Quantum's acquisition of Pivot3 raises questions for existing Pivot3 users, and what he believes to be the best strategy for modern enterprise video surveillance.
Complete the adjacent form to receive a complimentary copy of the report.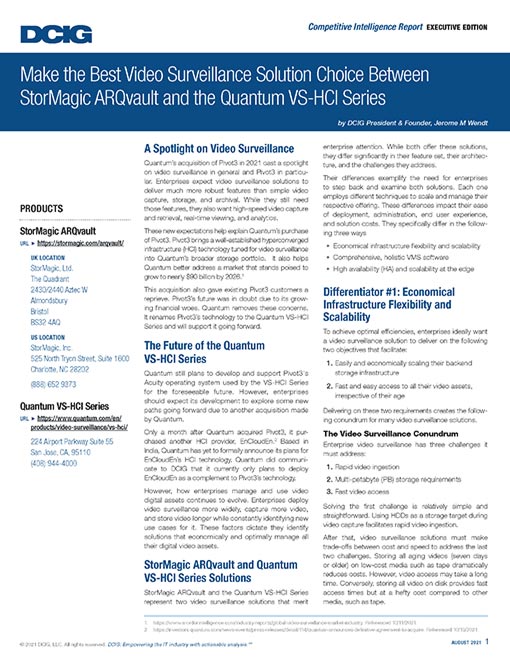 By clicking download above, you consent to allow StorMagic to store and process the personal information submitted and for StorMagic to contact you via telephone and email in relation to the content requested.
StorMagic is committed to protecting and respecting your privacy, and we'll only use your personal information to provide the products and services you requested from us. You may unsubscribe from StorMagic marketing communications at any time. For more information on how to unsubscribe, our privacy practices, and how we are committed to protecting and respecting your privacy, please review our Data Protection Policy.
Share This Post, Choose Your Platform!
More white papers from StorMagic: