Surveillance video retention considerations and approaches to optimize use and spend
Video retention has become a large concern recently. Many companies and agencies find themselves having to adhere to specific retention requirements, whether a legal or a business requirement. Currently, it is not uncommon for retention periods for entities in many U.S. states to reach two years for litigation reasons. In manufacturing plants with high exposure to product liability, retention periods extending to 99 years have been used. The use of surveillance video for business intelligence is also pushing the retention periods upwards.
The value of a surveillance video is low until it is needed, but when it is needed, its value is very high. And you cannot assume that the importance of video continually decreases over time. At 1 year, 11 months, and 29 days past an event, when a lawsuit is being brought against an entity, video to prove or disprove the actual event suddenly becomes very important.
This white paper examines the video retention process faced by organizations in all industries, exploring:
The benefits and pitfalls of long-term video retention compared to short-term retention
The shortcomings that need to be overcome in current video surveillance storage systems to make long-term retention practical
The best practices for video retention that organizations and IT leaders should follow
StorMagic's approach to surveillance video retention
Complete the form below to read and download the full white paper.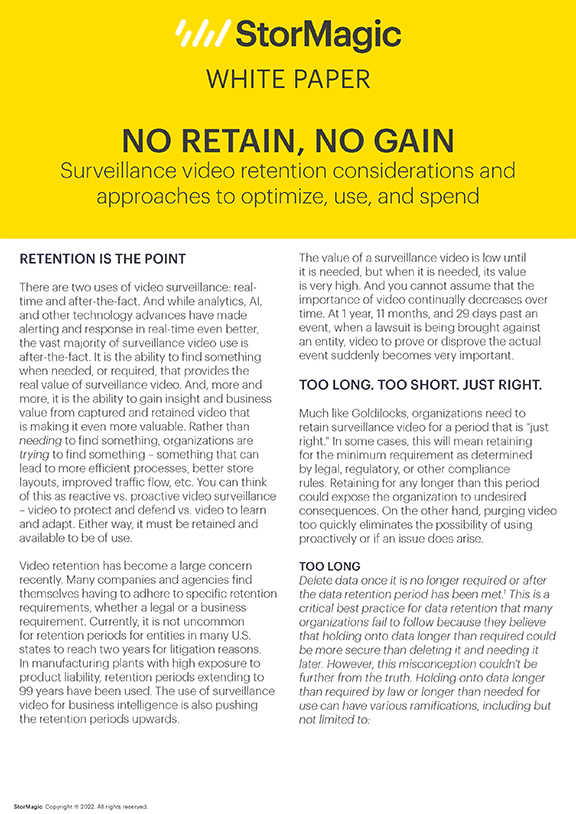 By clicking download above, you consent to allow StorMagic to store and process the personal information submitted and for StorMagic to contact you via telephone and email in relation to the content requested.
StorMagic is committed to protecting and respecting your privacy, and we'll only use your personal information to provide the products and services you requested from us. You may unsubscribe from StorMagic marketing communications at any time. For more information on how to unsubscribe, our privacy practices, and how we are committed to protecting and respecting your privacy, please review our Data Protection Policy.
Share This Post, Choose Your Platform!
More white papers from StorMagic: