Containers are incredible tools in the world of agile software development. And with the convergence of IT and operations technology (OT) in many organizations, containers are making the leap from the datacenter to the edge.
Although they once had little in common, IT and OT are becoming so interdependent and closely connected that they often need to use the same approaches—from hardware to software to design methodologies. This has led to the adoption of IT concepts like microservices and DevOps for edge deployments.
In this white paper, learn how hyperconverged infrastructure (HCI) and containers can provide the solution for organizations looking to deploy applications — especially cloud-native applications — faster and more economically at the edge. Supported by industry research, the white paper discusses the importance of containers, how HCI storage can help, and what to look for in an HCI solution for container environments.
Complete the form to read and download your copy of the white paper.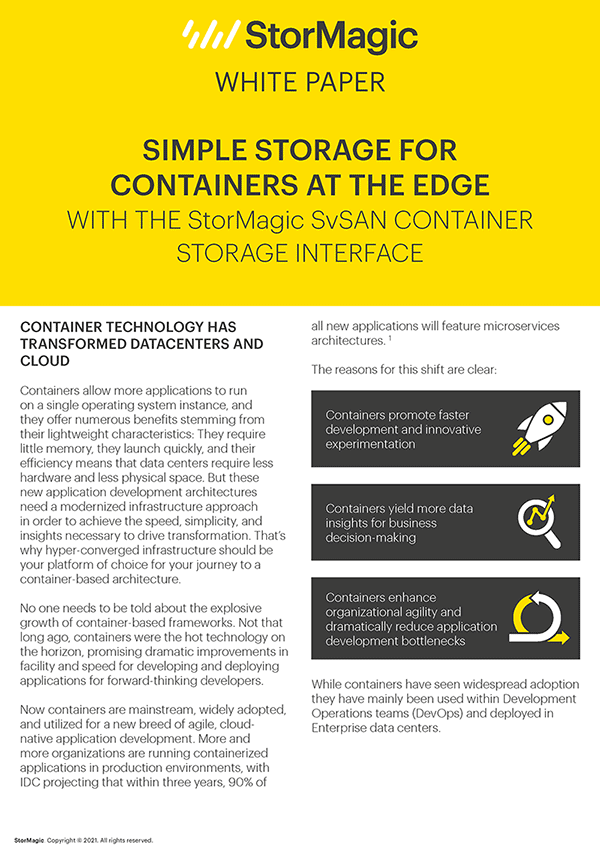 By clicking download above, you consent to allow StorMagic to store and process the personal information submitted and for StorMagic to contact you via telephone and email in relation to the content requested.
StorMagic is committed to protecting and respecting your privacy, and we'll only use your personal information to provide the products and services you requested from us. You may unsubscribe from StorMagic marketing communications at any time. For more information on how to unsubscribe, our privacy practices, and how we are committed to protecting and respecting your privacy, please review our Data Protection Policy.
Share This Post, Choose Your Platform!
More white papers from StorMagic: