As organizations formulate their future IT strategies, service availability, reliability and performance need to be considered. For large, distributed enterprises they must define which applications are required to maintain key services on-site – where the enterprise meets the customer. Then factor in the latencies and downtime the applications can tolerate without significantly impacting the business or customer experience, as well as network performance, legacy applications and compliance regulations. Typically after comprehensive due diligence is complete some applications will be centralized and/or integrated with the "cloud" while the remaining applications are left to run locally, being managed from a central location.
This white paper discusses a typical remote site's requirements and identifies the challenges and pain points that are common in these environments. Combining the best in class solutions of Microsoft Server 2012 and StorMagic SvSAN this paper provides solutions to these challenges.
Complete the form below to read and download the full white paper.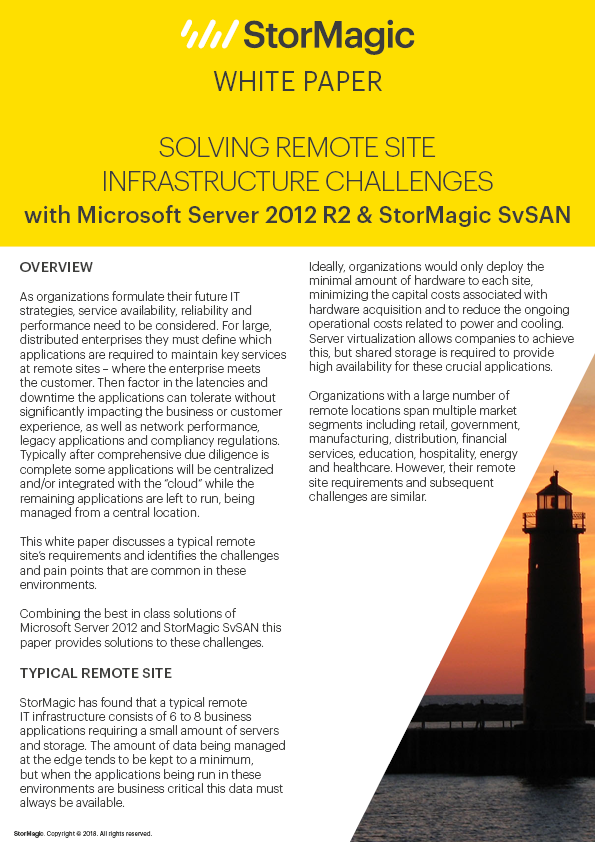 By clicking download above, you consent to allow StorMagic to store and process the personal information submitted and for StorMagic to contact you via telephone and email in relation to the content requested.
StorMagic is committed to protecting and respecting your privacy, and we'll only use your personal information to provide the products and services you requested from us. You may unsubscribe from StorMagic marketing communications at any time. For more information on how to unsubscribe, our privacy practices, and how we are committed to protecting and respecting your privacy, please review our Data Protection Policy.
Share This Post, Choose Your Platform!
More white papers from StorMagic: