Deni Connor of analyst firm SSG-NOW provides her own opinion on the hyperconverged market and the position that StorMagic SvSAN occupies within it.
While hyperconverged infrastructure appliances are a boon to IT infrastructures because they are easy to deploy and manage, they present challenges because their configurations don't always meet the exact compute, storage and networking and scalability needs of the customer. Their fixed configurations tend to be prone to overprovisioning to overcome the limitations to scalability and too often, the customer needs to deploy another appliance, which not only makes overprovisioning worse, but is also very expensive.
Complete the form below to read and download the full report.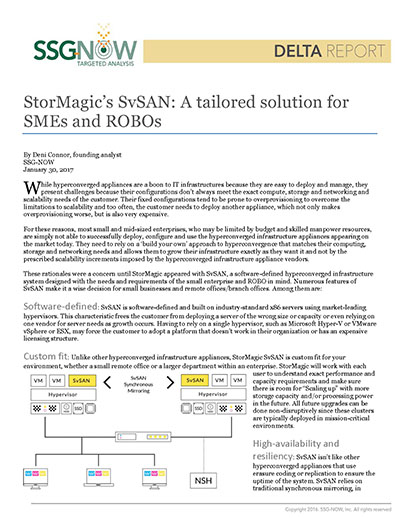 By clicking download above, you consent to allow StorMagic to store and process the personal information submitted and for StorMagic to contact you via telephone and email in relation to the content requested.
StorMagic is committed to protecting and respecting your privacy, and we'll only use your personal information to provide the products and services you requested from us. You may unsubscribe from StorMagic marketing communications at any time. For more information on how to unsubscribe, our privacy practices, and how we are committed to protecting and respecting your privacy, please review our Data Protection Policy.
Share This Post, Choose Your Platform!
More white papers from StorMagic: