Edge computing, remote offices, branch offices (ROBO), small data centers, and IoT use cases are on the rise. Most research predicts that the amount of data stored outside the data center will be 40x more than what is stored inside the data center. The challenge for IT is equipping the edge with compute, and storage with a solution that meets the needs of the edge, while at the same time being cost-effective and easy to manage remotely.
In this report, George Crump of Storage Switzerland examines the case for edge computing, and whether hyperconvergence really can work in such environments. The report evaluates the capabilities of StorMagic SvSAN in being able to achieve this.
Complete the form below to read and download the full report.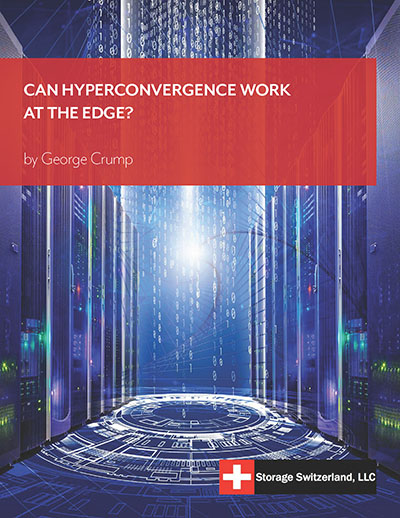 By clicking download above, you consent to allow StorMagic to store and process the personal information submitted and for StorMagic to contact you via telephone and email in relation to the content requested.
StorMagic is committed to protecting and respecting your privacy, and we'll only use your personal information to provide the products and services you requested from us. You may unsubscribe from StorMagic marketing communications at any time. For more information on how to unsubscribe, our privacy practices, and how we are committed to protecting and respecting your privacy, please review our Data Protection Policy.
Share This Post, Choose Your Platform!
More white papers from StorMagic: