SvSAN is the virtual SAN that makes the complex world of virtualized storage simple. Perfect for edge computing environments, the technology is based on software-defined storage that eliminates the need for physical SANs. SvSAN is designed to be very simple to install and manage whether deployed as part of a hyperconverged solution or as a storage-only target for any server environment. SvSAN has been designed for the realities of edge computing such as long latencies and limited throughput which are often found in remote areas. When space, cost or network reliability are at a premium, it is the perfect solution to eliminate downtime.
Below is our SvSAN infographic, which explains some of the main features and benefits of the solution. There's plenty more information about the product on the StorMagic website. Check out the dedicated SvSAN product page, as well as the data sheet and SvSAN pricing.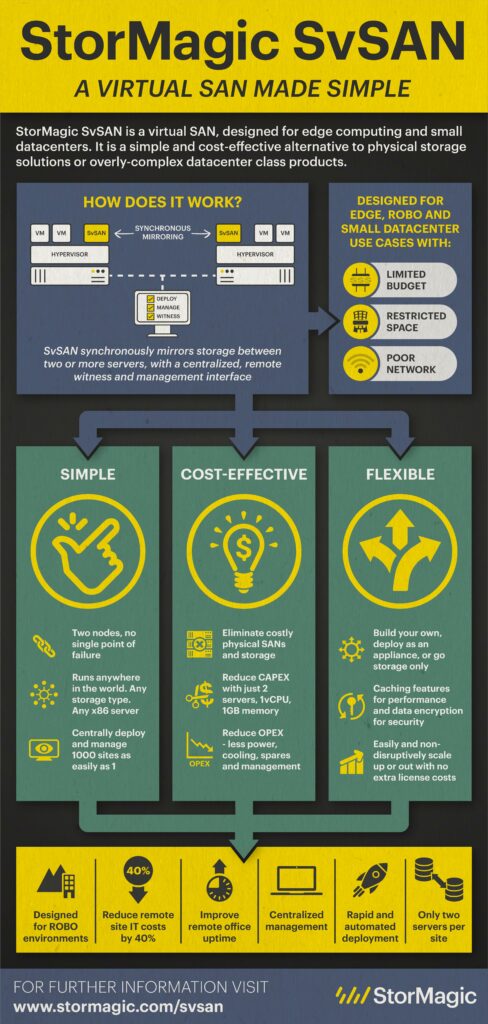 ---
Subscribe to receive the latest updates and articles from StorMagic:
By clicking subscribe above, you consent to allow StorMagic to store and process the personal information submitted and for StorMagic to contact you via telephone and email in relation to your request. StorMagic is committed to protecting and respecting your privacy, and we'll only use your personal information to provide the products and services you requested from us. You may unsubscribe from StorMagic marketing communications at any time. For more information on how to unsubscribe, our privacy practices, and how we are committed to protecting and respecting your privacy, please review our Data Protection Policy.