StorMagic is excited to be included in Gartner's Magic Quadrant for Hyperconverged Infrastructure for the very first time. Included as part of the Niche Players Quadrant, this is fantastic recognition for StorMagic as a key player in delivering edge storage and hyperconverged solutions.
StorMagic was recognised for providing lightweight virtual storage to the edge of the network, whether that's for SME datacenters or small branch sites. SvSAN harnesses complex datacenter technology, turning it into something that is simple and cost effective that prevents small organizations from over-provisioning (and over-paying) with traditional datacenter technology.
"We believe that Gartner's inclusion of StorMagic to the November 2018 Gartner Magic Quadrant for Hyperconverged Infrastructure is a tremendous recognition, and StorMagic's 2019 roadmap includes key developments that will continue to further our market position," said Hans O'Sullivan, founder and CEO of StorMagic. "SvSAN is a simple solution for edge computing environments that demand low cost, high availability and easy management, due to restricted budgets and limited IT staff."
This came on the same week as the news that StorMagic has all 5 star reviews on Gartner Peer Insights (as of December 2018), with customers commenting on the simplicity of installation, effective and helpful support, and delivering high performing storage at the edge.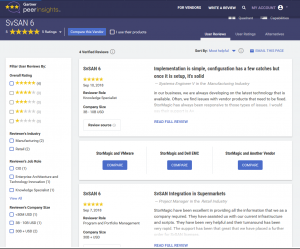 You can check out the full list of reviews here.
If you're not already a StorMagic customer and would like to find out more about why SvSAN is a five-star virtual SAN for the edge then you can find out more here.
Share This Post, Choose Your Platform!
Recent Blog Posts