Achieve robust data security and save 85% over competitive solutions
Data security is an increasingly pressing issue for organizations. Not a week goes by without a high-profile breach or loss of data. The advent of tougher regulations like GDPR which impacts any business with activities in Europe has pushed data encryption and security to the forefront of the IT architect's mind.
SvSAN 6.2 now includes data encryption that is FIPS 140-2 compliant and eliminates the need for expensive OS or hypervisor-level solutions.
White Paper: Data at Rest Encryption – Best Practices for Edge Environments
This white paper details best practices for encryption, particularly for edge sites. It explains SvSAN's own data encryption feature and concludes with a list of failure scenarios that SvSAN can tolerate without compromising data security. Complete the form to read the full white paper.
By clicking download, you consent to allow StorMagic to store and process the personal information submitted and for StorMagic to contact you via telephone and email in relation to the content requested.
StorMagic is committed to protecting and respecting your privacy, and we'll only use your personal information to provide the products and services you requested from us. You may unsubscribe from StorMagic marketing communications at any time. For more information on how to unsubscribe, our privacy practices, and how we are committed to protecting and respecting your privacy, please review our Data Protection Policy.
Available as an additional feature on top of the base SvSAN license, SvSAN's data encryption feature is the most cost-effective encryption solution for storing data in edge computing environments. The 100% software approach eliminates the need for operating system or hypervisor-level encryption and does not require any special hardware. You get a simple and inexpensive way to protect sensitive data at the edge, where servers aren't typically located in secure datacenters.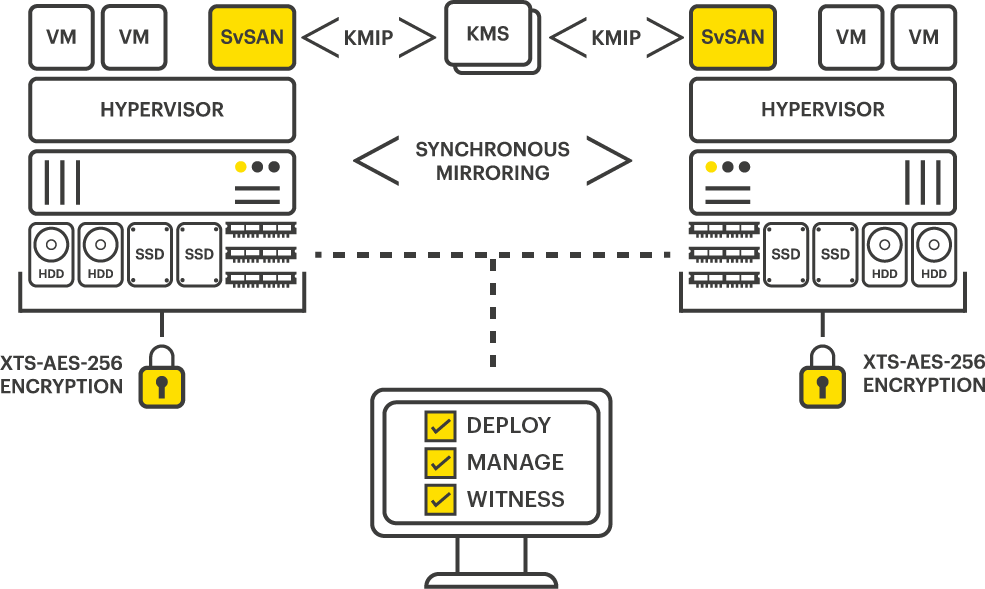 Any data handled by SvSAN's data encryption feature is encrypted before it is written to disk, using a FIPS 140-2 compliant encryption algorithm (XTS-AES-256). The solution meets HIPAA, PCI DSS & SOX requirements and uses CPU AES-NI encryption instructions that provide hardware acceleration.
Flexibility is underlined through SvSAN's compatibility with any KMIP-compliant Key Management Server (KMS) and the user has the option to encrypt all data, or just selected volumes as well as secure erasure and rekey. Additionally, all data is encrypted on the drives and in-flight between storage caching tiers and high availability clustered servers.
Another big benefit is that data destruction (disk scrubbing or degaussing) is not required on failed drives before discarding.