StorMagic is thrilled to announce that it has acquired KeyNexus, an innovator and designer of encryption key management solutions. Together, StorMagic and KeyNexus are dedicated to delivering modern security solutions for the edge, datacenter, and cloud.
This acquisition encompasses several exciting updates for StorMagic, its partners, and customers. These include the growth of our team, a new product offering, and StorMagic driving a new approach within the security market.
The New StorMagic Team
Several new team members have joined the StorMagic family, through the acquisition of KeyNexus. We are excited to have new employees from engineering, support, and product management onboard, offering their expertise in the security space and helping us expand our reach within the market. KeyNexus founder and CEO, Jeff MacMillan, joins StorMagic as CTO and a member of its board of directors, and will now be responsible for the company's overall technology strategy and execution. We look forward to working with these talented individuals and continuing to grow our team.
Introducing: SvKMS
SvKMS, StorMagic's first-ever virtualized key management software solution, is now available. SvKMS delivers enterprise-grade encryption key management that adapts to any environment — whether it be the edge, datacenter, and/or cloud. It eliminates common encryption pain points, by providing centralized management and the flexibility to deploy a KMS wherever it's needed, at a surprisingly low cost.
For more information about SvKMS and it's unique product features, download our StorMagic SvKMS data sheet.
StorMagic Joins the Security Market
By acquiring KeyNexus, StorMagic has expanded its reach within the technology industry, becoming both a storage and security focused organization. StorMagic's product portfolio now reaches both datacenter and cloud security customer requirements, enabling us to address even more customer pain points.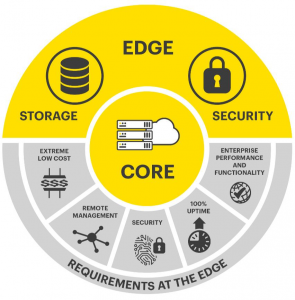 "StorMagic is broadening its reach from storage at the edge to now include security, which solves a major dilemma for our customers. Thanks to the KeyNexus acquisition, we are taking a leadership position in the industry in bringing the edge and the core closer together," said Brian Grainger, CRO, StorMagic.
Interested in Learning More?
StorMagic will be hosting a webinar on Wednesday, April 15 at 11am EDT / 4pm BST to discuss further details about the acquisition of KeyNexus and the SvKMS product and its features. Click here to register for the webinar.
The webinar will be a great opportunity to ask any questions you might have. You can also contact our sales team at any time for more information about our products and services, at [email protected].
Share This Post, Choose Your Platform!
Recent Blog Posts