Annual Guide Recognizes the IT Channel's Top Partner Programs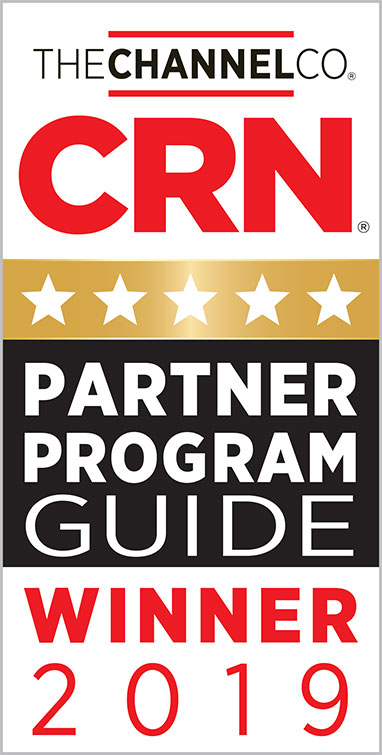 BRISTOL, England –1 April, 2019– StorMagic®, simplifying storage at the edge, announced today that CRN®, a brand of The Channel Company, has given the StorMagic Channel Program a 5-Star rating in its 2019 Partner Program Guide. This annual guide identifies the strongest and most successful partner programs in the channel today, offered by the top technology suppliers for IT products and services. The 5-Star rating recognizes an elite subset of companies that offer solution providers the best partnering elements in their channel programs.
To determine the programs that received a 5-Star rating this year, The Channel Company's research team assessed each supplier's partner program based on investments in program offerings, partner profitability, partner training, education and support, marketing programs and resources, sales support and communication.
StorMagic's award-winning solution, SvSAN lets channel partners access the edge and small datacenter markets, with a software-defined virtual SAN that enables highly available storage on just two nodes per cluster. StorMagic Channel Program partners open new revenue streams with a differentiated, simple, low-cost hyperconverged (HCI) solution, that drives significant incremental revenue through generous margins in opportunities.
"With new technologies emerging every year, evaluating which IT vendors to partner with grows increasingly more complex for solution providers," said Bob Skelley, CEO, The Channel Company. "We are proud the CRN Partner Program Guide has become the trusted resource to identify the most rewarding partner programs and provides crucial insight into their strengths and benefits for the channel."
"StorMagic's corporate revenue model is 100 percent channel based, and we are honored to be recognized by CRN for our elite partner program," said Brian Grainger, StorMagic's chief revenue officer. "SvSAN is a perfect offering to help VARs combat resistance to the expensive, complicated hardware-based HCI products available today. SvSAN delivers simplicity and affordability, so channel partners can help customers deploy at one to thousands of sites quickly and seamlessly—and earn some great margins along the way."
The 2019 Partner Program Guide will be featured in the April issue of CRN and online at www.CRN.com/ppg.
###
About StorMagic
Established in 2006, StorMagic is simplifying storage at the edge. Its virtual SAN makes edge computing simple for everyone from large organizations with thousands of sites, to companies running a single small datacenter. StorMagic offers customers that are dissatisfied with the cost and complexity of external SANs a highly available, two-server solution that is simple, cost-effective and flexible. StorMagic was founded on the concept that technology has become way too complex, and its core mission is to make the complex simple. For additional information, visit www.stormagic.com.
Join the Conversation
Follow StorMagic on Facebook, Instagram, LinkedIn and Twitter, and subscribe to our corporate blog and YouTube Channel.
About The Channel Company
The Channel Company enables breakthrough IT channel performance with our dominant media, engaging events, expert consulting and education and innovative marketing services and platforms. As the channel catalyst, we connect and empower technology suppliers, solution providers and end users. Backed by more than 30 years of unequalled channel experience, we draw from our deep knowledge to envision innovative new solutions for ever-evolving challenges in the technology marketplace. www.thechannelcompany.com
Follow The Channel Company: Twitter, LinkedIn and Facebook
Copyright ©2019. CRN is a registered trademark of The Channel Company, LLC. All rights reserved.
The Channel Company Contact:
Jennifer Hogan
The Channel Company
[email protected]
StorMagic Media Contact:
Tim Hamilton
[email protected]
(978) 518-4503
All product and company names herein may be trademarks of their registered owners.
Share This Post, Choose Your Platform!
Recent News
BRISTOL, England – 28 March, 2022 – StorMagic®, solving the world's edge data problems, today announced it is being celebrated by CRN®, a brand of The Channel Company, with a [...]
Customers can Capture, Store, and Find Data Forever while Reducing Storage Costs by 50% BRISTOL, England – 24 March, 2022 – StorMagic®, solving the world's edge data problems, today announced [...]
Company Grew OEM Revenue by 100 Percent and Added 25 Percent More Video Surveillance Partners in Twelve Months BRISTOL, England –7 February, 2021 – StorMagic®, simplifying storage and security from [...]