This week, StorMagic SvSAN was named a Bronze Winner in the Encryption Product Category of the 2019 Cybersecurity Excellence Awards. This program honors individuals, products and companies that demonstrate excellence, innovation and leadership in information security. The finalists and winners were selected based on the strength of their nomination, as well as the popular vote by members of the Information Security Community. (Thank you to everyone who voted for us!)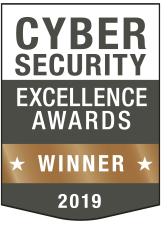 According to Gartner, "through 2020, driven by the increasing risk of a data breach, more than 50 percent of enterprises will purchase enterprise-wide encryption products, which is a significant increase from fewer than 20 percent today."
Proper security is no longer an optional extra, it is a fundamental requirement for any business, and the data explosion outside of traditional datacenters makes edge-based encryption a proactive approach to mitigate risks and loss. This is where StorMagic SvSAN comes in.
The top four reasons to deploy StorMagic SvSAN with Data Encryption in your edge environment:
Makes the Complex Simple- it's a 100 percent software approach that encrypts data before writing to disk, eliminating the need for operating system or hypervisor-level encryption. Data destruction or degaussing is no longer needed prior to discarding failed disk drives.
Cost Effective- Straightforward to use and versatile, SvSAN with Data Encryption is significantly less expensive than comparable solutions, by as much as 85%. No special (costly) self-encrypting disk drives, RAID cards or hardware acceleration cards required.
Highly Secure – SvSAN uses a FIPS 140-2 compliant algorithm through OpenSSL XTS-AES-256 bit encryption and meets the major compliance regulations such as HIPAA, PCI DSS, SOX and EU GDPR. This is particularly critical at the edge where physical security is limited, or non existent.
Flexible – Customers can choose any KMIP-compliant key manager, choose to encrypt all or only selected volumes of data, and have rich features like secure erase, rekey and Predictive Storage Caching, typically found only in datacenter class encryption solutions.
The StorMagic team is honored to be named a Winner in the 2019 Cybersecurity Awards program. Want to know more about StorMagic's encryption solution? Check out these additional resources:
*Gartner, "Prioritize Enterprise-wide Encryption for Critical Datasets," by Brian Lowans, 28 June 2017.
Share This Post, Choose Your Platform!
Recent Blog Posts