The threat landscape is continually evolving. Data stored in corporate databases, edge sites, and employee devices connected to corporate networks is highly vulnerable to bad actors who are incentivized to take advantage of all this juicy information. While there is no perfect security technology that will prevent every type of attack, there are new secure computing methods where trust is built into the technology architecture. One of these methods is called Trusted Computing.
Trusted Computing takes its name from the field of trusted systems and expects computer systems to behave in a certain way that is enforced through computer hardware and software. With the deluge of data across devices that span virtual machines, mobile devices, cloud computing, and IoT, there is a need to secure data residing across a diverse, complex and ever growing infrastructure. Securing this data is vital in creating trust between those that provide the data and those that store and use the data. Trusted Computing is leading the way in defining models to build trusted systems that use a RoT, such as a TPM, to secure data and access.
Explore the details around building a secure environment in your organization using Trusted Computing with this white paper. Complete the form to read and download your copy.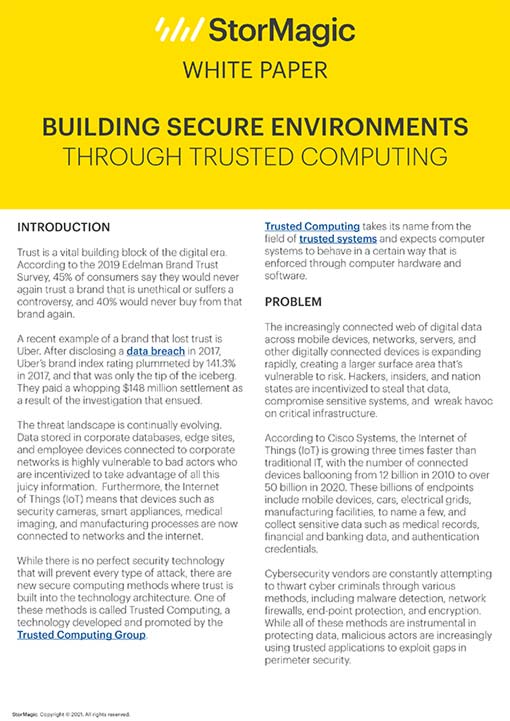 By clicking download above, you consent to allow StorMagic to store and process the personal information submitted and for StorMagic to contact you via telephone and email in relation to the content requested.
StorMagic is committed to protecting and respecting your privacy, and we'll only use your personal information to provide the products and services you requested from us. You may unsubscribe from StorMagic marketing communications at any time. For more information on how to unsubscribe, our privacy practices, and how we are committed to protecting and respecting your privacy, please review our Data Protection Policy.
Share This Post, Choose Your Platform!
More white papers from StorMagic: