StorMagic Brings Certainty Not EOLs to Edge Deployments
Deploying solutions at remote office and edge locations can be difficult. These sites face unique challenges, and require specialized solutions that are easy to install and manage, cost-effective, and reliable. For these reasons, edge computing organizations have often gravitated towards Dell EMC's PowerEdge VRTX solution, which is designed to deliver high availability to the edge.
Unfortunately, VRTX customers and prospects will soon be faced with finding an alternative solution, as the product is approaching end of life (EOL). With that said, is there a comparable solution on the market that these customers could consider, that will deliver the genuine high availability their environments require?
Jerome Wendt, President and Founder of industry analyst firm DCIG, has authored a new white paper that provides some direction and clarity for former or potential VRTX customers, seeking a replacement for the retiring system. He provides a compelling comparison of the Dell EMC PowerEdge VRTX solution and StorMagic SvSAN, delving into their key differences, and examining advantages SvSAN delivers.
Ideal for edge locations, SvSAN delivers simple, lightweight, and affordable high availability with any x86 server and vSphere, Hyper-V or KVM hypervisors. By making the switch from the VRTX hardware platform to a software-based, HCI solution like SvSAN, customers will reduce the amount of costly hardware within their environment, and achieve true high availability.
Complete the adjacent form to receive a free copy of the DCIG report.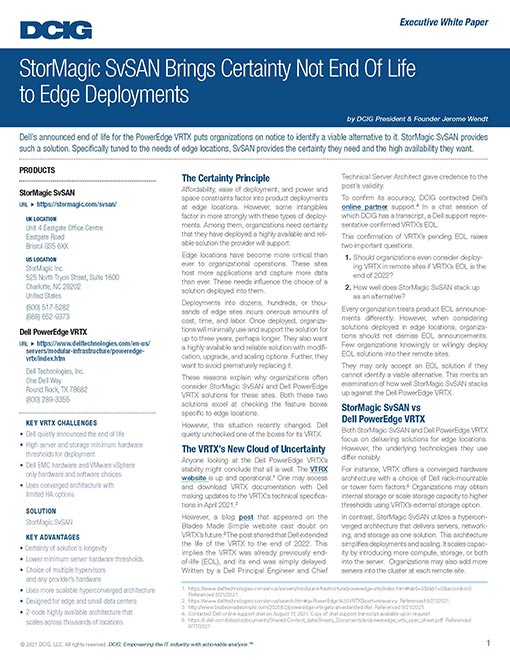 By clicking download above, you consent to allow StorMagic to store and process the personal information submitted and for StorMagic to contact you via telephone and email in relation to the content requested.
StorMagic is committed to protecting and respecting your privacy, and we'll only use your personal information to provide the products and services you requested from us. You may unsubscribe from StorMagic marketing communications at any time. For more information on how to unsubscribe, our privacy practices, and how we are committed to protecting and respecting your privacy, please review our Data Protection Policy.
Share This Post, Choose Your Platform!
More white papers from StorMagic: