IT infrastructure is evolving; the days of having server and storage silos with dedicated specialized teams are over. This is mainly due to server virtualization and the move to "software-defined" for all infrastructure components.
Administrators of the virtual infrastructures need to control all aspects of the environment to ensure server availability and performance. This has spawned a new type of infrastructure solution known as "hyperconverged".
What is hyperconverged infrastructure?
Hyperconverged infrastructure combines compute, storage, networking and a hypervisor into a single entity. Adding more nodes to the infrastructure increases compute and/or storage capacity.
These infrastructures have been specifically positioned for the following use cases:
Edge computing
Remote and branch office (ROBO)
Virtual server environments
Virtual Desktop Infrastructures (VDI)
Disaster recovery/business continuity
Private cloud infrastructures
Video surveillance
This white paper details which hyperconverged infrastructure is best suited for distributed IT environments.
Complete the form below to read and download the full white paper.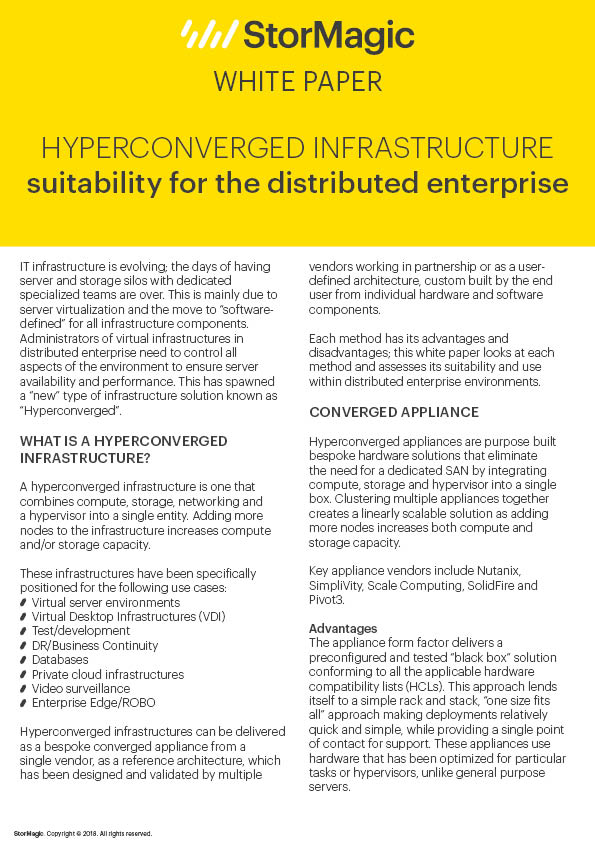 By clicking download above, you consent to allow StorMagic to store and process the personal information submitted and for StorMagic to contact you via telephone and email in relation to the content requested.
StorMagic is committed to protecting and respecting your privacy, and we'll only use your personal information to provide the products and services you requested from us. You may unsubscribe from StorMagic marketing communications at any time. For more information on how to unsubscribe, our privacy practices, and how we are committed to protecting and respecting your privacy, please review our Data Protection Policy.
Share This Post, Choose Your Platform!
More white papers from StorMagic: