In addition to hyperconverged solutions, another use case for software-defined storage is to build a server SAN. This is a dedicated external storage solution built from industry-standard servers using StorMagic SvSAN which creates a pool of scalable storage that can be accessed by any application server in your environment. This approach replaces traditional external storage arrays at a fraction of the cost and can deliver increased flexibility for future growth.
Easy to build your own server SAN
All you need to build your own server SAN are industry-standard servers and virtualization software. You can purchase new x86 servers (any brand) or repurpose old ones that aren't being used. Any internal storage device and memory card supported by the server will become part of the array – this includes Solid State Disks (SSD) or any type of magnetic spinning disk drive (SAS, SATA, FC). As for virtualization software, the hypervisor can be vSphere, Hyper-V or Linux KVM, and SvSAN is set up in a virtual machine to present the internal storage to the network.
Significantly lower cost than traditional storage arrays
Industry-standard servers continue to increase compute power and storage capacity while lowering cost to users. Additionally, disk drives used by traditional storage arrays are typically priced at a premium to server disk drives. Leveraging x86 server platforms to deliver storage services is a great way to significantly lower the cost of storage and stretch the IT budget.
White Paper: Build Your Own Server SAN
This white paper delves into further detail on how the combination of industry-standard servers and software-defined storage can enable the creation of an advanced storage array at a fraction of the cost of traditional storage products, whilst delivering increased flexibility for future demands. Complete the form to download the white paper.
By clicking download, you consent to allow StorMagic to store and process the personal information submitted and for StorMagic to contact you via telephone and email in relation to the content requested.
StorMagic is committed to protecting and respecting your privacy, and we'll only use your personal information to provide the products and services you requested from us. You may unsubscribe from StorMagic marketing communications at any time. For more information on how to unsubscribe, our privacy practices, and how we are committed to protecting and respecting your privacy, please review our Data Protection Policy.
Flexibility for future growth
Provision just the compute power and storage needed today and easily grow in the future. You can add CPU, memory and any disk storage type whenever needed – without downtime. Since storage is now separate from the application servers, it's easy to scale compute and storage independently.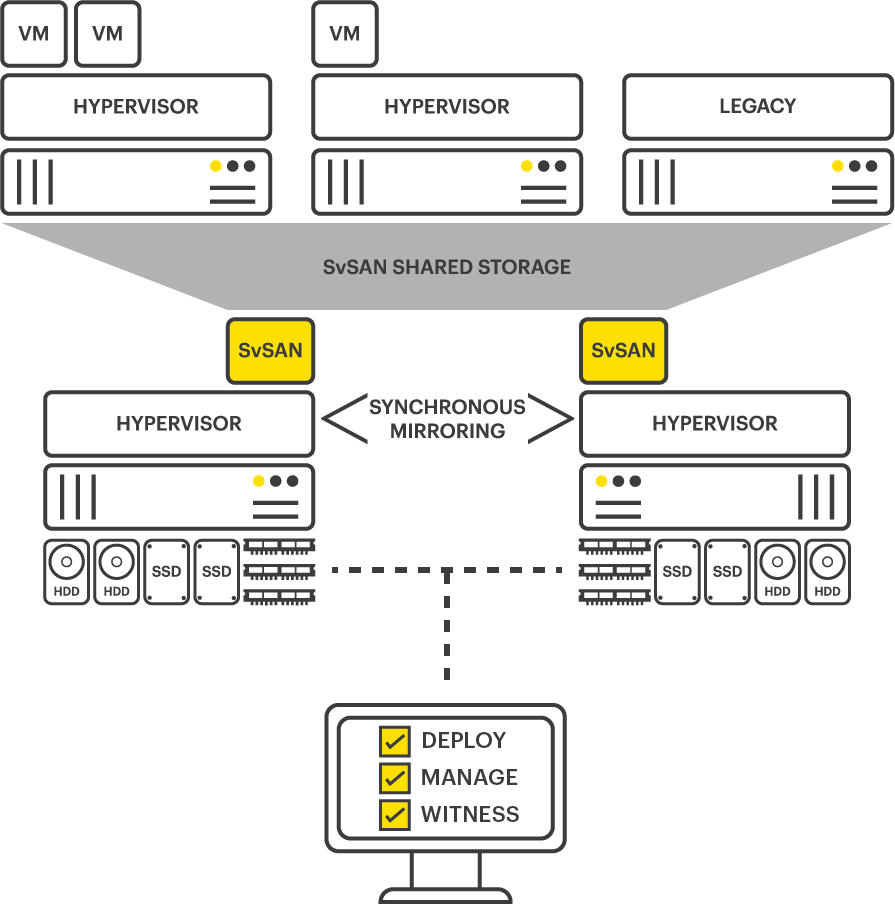 There are 3 primary deployment models available:
Single server: By deploying SvSAN on a single server, costs are kept to a minimum but there is no protection against a server failure. This is perfect for non-critical environments like testing & development, proof of concept, training and home labs.
Local mirrored cluster: Deploying SvSAN on two local servers creates a highly available cluster which provides protection against a server failure. Data is synchronously mirrored between the nodes ensuring it is always available. Local mirrored clusters are perfect for business critical applications and valuable data requiring protection.
Stretched cluster: The two clustered storage servers can be located in different server racks, at opposite ends of a datacenter or between buildings on a campus or across the city. This physical separation provides an added layer of resiliency to keep storage available to the application servers even during a local disaster (power loss, fire, flood, etc…). Stretched clusters are perfect for the most demanding environments that have 2 or more datacenters or a campus with multiple buildings.