The following white paper explores how the combination of industry-standard servers and software-defined storage can enable the creation of an advanced storage array at a fraction of the cost of traditional storage products, whilst delivering increased flexibility for future demands. Many organizations have already deployed server SANs with great success and this white paper will demonstrate why today is the perfect time for every IT professional to evaluate this approach against the traditional for their next storage requirement.
This white paper was produced to accompany the "Build Your Own Advanced Server-Based Storage Array" webinar, which you can watch on-demand here.
Complete the form below to read and download the full white paper.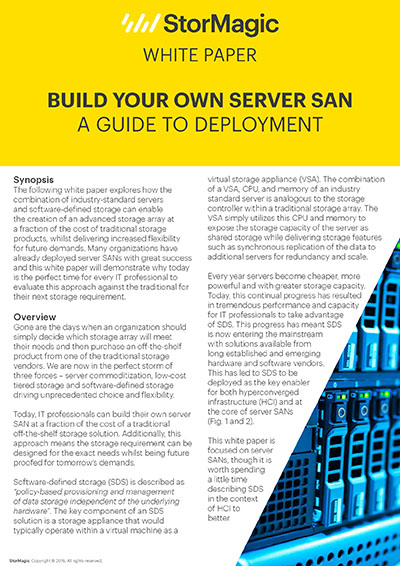 By clicking download above, you consent to allow StorMagic to store and process the personal information submitted and for StorMagic to contact you via telephone and email in relation to the content requested.
StorMagic is committed to protecting and respecting your privacy, and we'll only use your personal information to provide the products and services you requested from us. You may unsubscribe from StorMagic marketing communications at any time. For more information on how to unsubscribe, our privacy practices, and how we are committed to protecting and respecting your privacy, please review our Data Protection Policy.
Share This Post, Choose Your Platform!
More white papers from StorMagic: