Businesses that require high service availability in their applications can design their storage infrastructure in such a way as to create redundancy and eliminate single points of failure. StorMagic SvSAN achieves this through clustering – each instance of SvSAN is deployed as a two node cluster, with storage shared across the two nodes.
However, in order to properly mitigate against failures and the threat of downtime, an additional element is required. This is the "witness". This white paper explores the SvSAN witness, its requirements and tolerances and the typical failure scenarios that it helps to eliminate.
Complete the form below to read and download the full white paper.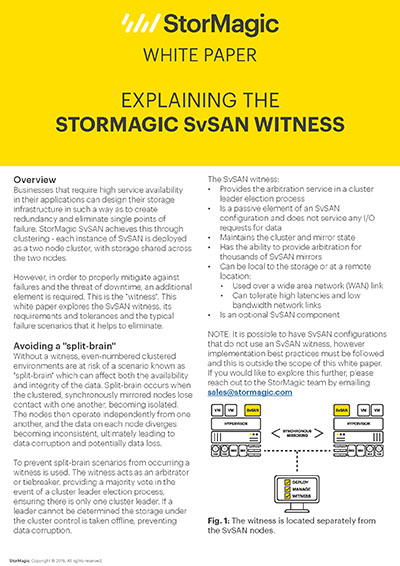 By clicking download above, you consent to allow StorMagic to store and process the personal information submitted and for StorMagic to contact you via telephone and email in relation to the content requested.
StorMagic is committed to protecting and respecting your privacy, and we'll only use your personal information to provide the products and services you requested from us. You may unsubscribe from StorMagic marketing communications at any time. For more information on how to unsubscribe, our privacy practices, and how we are committed to protecting and respecting your privacy, please review our Data Protection Policy.
Share This Post, Choose Your Platform!
More white papers from StorMagic: