Regardless of vertical or business size, those that operate across a number of remote sites share similar IT challenges that can impact service availability, reliability and performance.
StorMagic has identified seven potential IT challenges to large enterprises and SMEs alike:
Ensuring application uptime
Delivering application performance
Maximizing server and storage utilization
Reducing cost and complexity
Minimizing deployment time
Providing hardware independence
Simplifying and centralizing management
This white paper discusses these challenges and pain points, common in remote site environments, and how SvSAN can help to resolve these challenges.
Complete the form below to read and download the full white paper.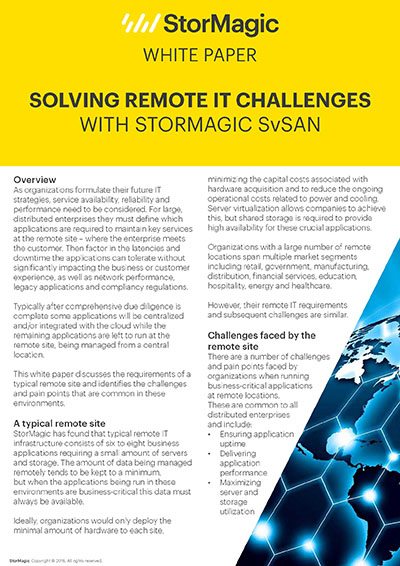 By clicking download above, you consent to allow StorMagic to store and process the personal information submitted and for StorMagic to contact you via telephone and email in relation to the content requested.
StorMagic is committed to protecting and respecting your privacy, and we'll only use your personal information to provide the products and services you requested from us. You may unsubscribe from StorMagic marketing communications at any time. For more information on how to unsubscribe, our privacy practices, and how we are committed to protecting and respecting your privacy, please review our Data Protection Policy.
Share This Post, Choose Your Platform!
More white papers from StorMagic: