With each new generation of processor, modern servers can process more in less time. However, this is limited by the performance of storage which has led to an ever-widening performance gap being created.
This white paper defines what is meant by the performance gap, what can be done to reduce it and how StorMagic is addressing the issue with Predictive Storage Caching.
Predictive Storage Caching is a set of features within StorMagic SvSAN that enables the storage architect to deliver significant performance improvements without requiring costly hardware upgrades. It leverages patent-pending algorithms to accelerate both read and write operations, therefore delivering huge improvements in efficiency.
Complete the form below to read and download the full white paper.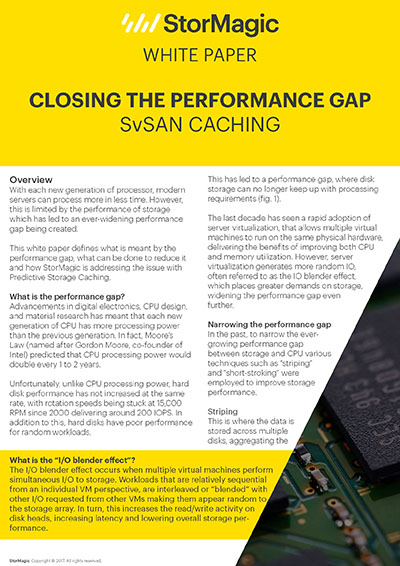 By clicking download above, you consent to allow StorMagic to store and process the personal information submitted and for StorMagic to contact you via telephone and email in relation to the content requested.
StorMagic is committed to protecting and respecting your privacy, and we'll only use your personal information to provide the products and services you requested from us. You may unsubscribe from StorMagic marketing communications at any time. For more information on how to unsubscribe, our privacy practices, and how we are committed to protecting and respecting your privacy, please review our Data Protection Policy.
Share This Post, Choose Your Platform!
More white papers from StorMagic: