Many physical disruptions and disasters that organizations face are localized to a specific room, building or campus. Much maintenance and repair work that organizations undertake is similarly contained to a single location or is completed in a staged manner. For IT operations, these more-frequent, localized events cause significant disruption, but the disruption can be minimized or eliminated through the use of stretch clusters.
This white paper will examine the use cases for stretch clusters, and how StorMagic SvSAN enables stretch clusters to be created. Supporting this are test results demonstrating the level of latency (and therefore distance) that SvSAN can tolerate for both read and write operations.
Complete the form below to read and download the full white paper.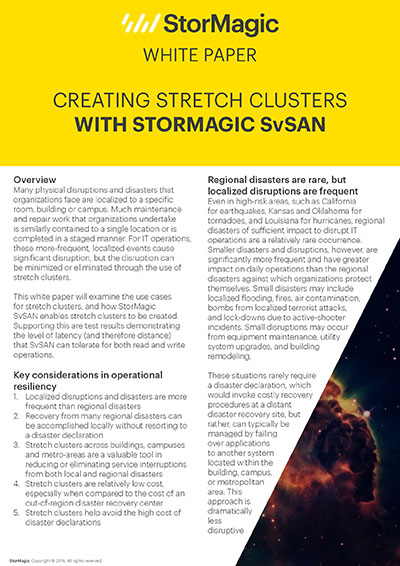 By clicking download above, you consent to allow StorMagic to store and process the personal information submitted and for StorMagic to contact you via telephone and email in relation to the content requested.
StorMagic is committed to protecting and respecting your privacy, and we'll only use your personal information to provide the products and services you requested from us. You may unsubscribe from StorMagic marketing communications at any time. For more information on how to unsubscribe, our privacy practices, and how we are committed to protecting and respecting your privacy, please review our Data Protection Policy.
Share This Post, Choose Your Platform!
More white papers from StorMagic: