Enterprise Strategy Group (ESG) is an IT analyst, research, validation, and strategy firm that provides market intelligence and actionable insight to the global IT community.
This report provides insight into why organizations must prioritize an efficient key management strategy alongside encryption for adequate cybersecurity and breaks down the challenges and requirements of modern key management.
Abstract:
Encryption is crucial to protecting data from cyber-attack and misuse. However, proper management of cryptographic keys is essential to effective encryption and protection of sensitive data. With the scale and availability requirements of modern IT public and private cloud infrastructures, relying on traditional hardware security modules can be challenging due to high costs and complexity. StorMagic SvKMS offers a solution—an effective, centralized key management system for all edge, cloud-resident, and on-premises data encryption needs within an organization.
Complete the form below to read and download the full ESG report.
"Even when data is encrypted, organizations are still at risk of data loss. If a malicious actor is able to access a key, the actor is now able to access the associated data. If an organization loses the key, or the key is corrupted, the organization loses access to sensitive and mission-critical data."
Enterprise Strategy Group (ESG)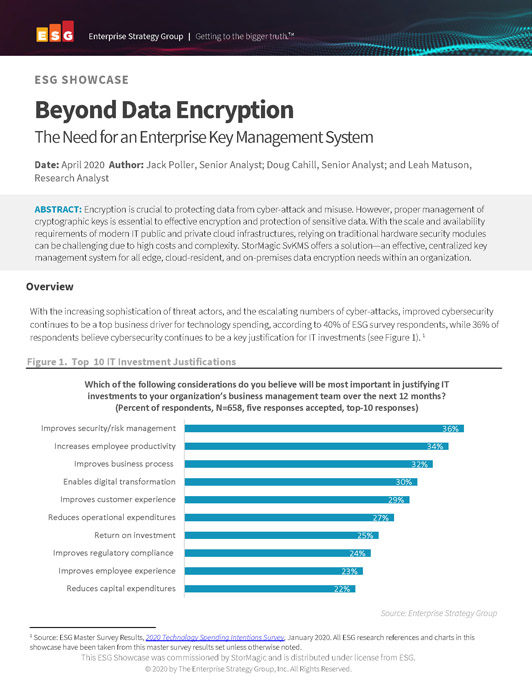 By clicking download above, you consent to allow StorMagic to store and process the personal information submitted and for StorMagic to contact you via telephone and email in relation to the content requested.
StorMagic is committed to protecting and respecting your privacy, and we'll only use your personal information to provide the products and services you requested from us. You may unsubscribe from StorMagic marketing communications at any time. For more information on how to unsubscribe, our privacy practices, and how we are committed to protecting and respecting your privacy, please review our Data Protection Policy.
Share This Post, Choose Your Platform!
More white papers from StorMagic: