IT operations is in a transition period where containers are both replacing and co-existing with VMs. That means IT teams will have to support VMs and containers simultaneously – sometimes on the same storage systems. At the same time, data is moving to the edge at a break-neck speed but many applications will continue to live in datacenters and multiple clouds. That will require storage and compute that is versatile enough to handle the technologies of today along with those that support modern applications.
In this Technical Insight Report from analyst firm Evaluator Group, author Dave Raffo discusses the rise of data and containers at the edge of the enterprise, and examines the suitability of the StorMagic SvSAN Container Storage Interface (CSI) driver in addressing the problem of running containers at the edge with persistent storage and alongside applications in VMs.
Complete the form to read and download your copy of the Evaluator Group analyst report.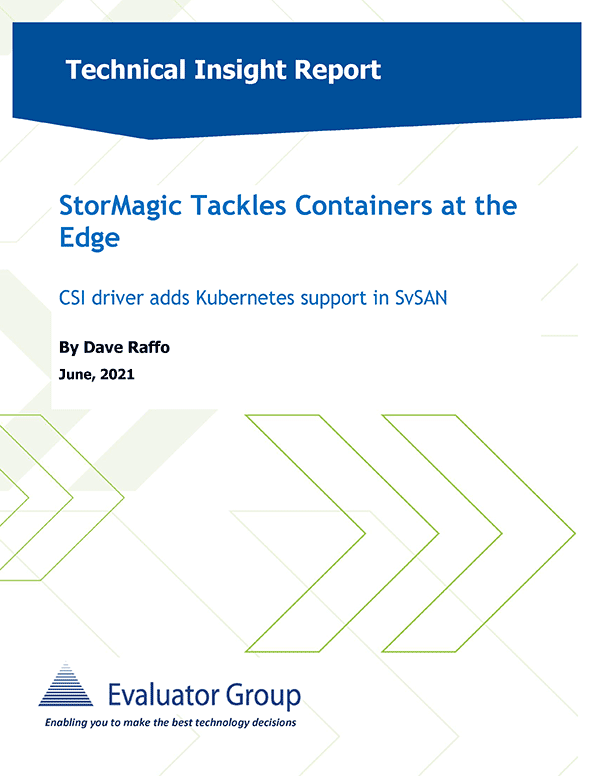 By clicking download above, you consent to allow StorMagic to store and process the personal information submitted and for StorMagic to contact you via telephone and email in relation to the content requested.
StorMagic is committed to protecting and respecting your privacy, and we'll only use your personal information to provide the products and services you requested from us. You may unsubscribe from StorMagic marketing communications at any time. For more information on how to unsubscribe, our privacy practices, and how we are committed to protecting and respecting your privacy, please review our Data Protection Policy.
Watch StorMagic CMO Bruce Kornfeld discuss containers at the edge with Evaluator Group's Camberley Bates and Dave Raffo
Share This Post, Choose Your Platform!
More white papers from StorMagic: