As a simple, lightweight software-defined storage solution, StorMagic SvSAN has been designed to be tailored to an organization's specific needs at the time of deployment providing a minimal two-node highly available storage solution. Configuring the solution to the exact requirements eliminates over-provisioning. Yet few organizations' requirements stay the same over time. Growth or changes of direction within an organization create new demands that may not be met by the existing storage infrastructure. Consequently, it is important that upgrades in capacity or performance are as straightforward and simple as possible.
This white paper explains how an organization using StorMagic SvSAN can easily scale-up or scale-out their existing architecture without disruption and with minimal expense.
Complete the form below to read and download the full white paper.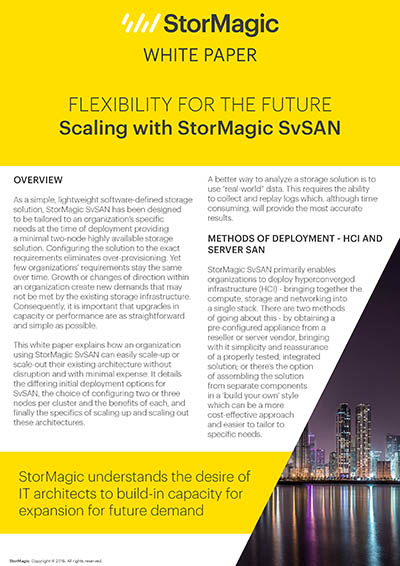 By clicking download above, you consent to allow StorMagic to store and process the personal information submitted and for StorMagic to contact you via telephone and email in relation to the content requested.
StorMagic is committed to protecting and respecting your privacy, and we'll only use your personal information to provide the products and services you requested from us. You may unsubscribe from StorMagic marketing communications at any time. For more information on how to unsubscribe, our privacy practices, and how we are committed to protecting and respecting your privacy, please review our Data Protection Policy.
Share This Post, Choose Your Platform!
More white papers from StorMagic: