Many companies are now completely reliant on IT for everyday operations, and as such the availability and uptime of these systems is critically important. Loss of service equates to loss of productivity which, depending on the severity, can have a potentially huge impact for an organization. This is important as the idea of the datacenter grows to include distributed computing at remote locations such as stores, manufacturing sites, or satellite offices.
To ensure high availability in an IT system, it is important to design and build-in the required levels of resiliency and redundancy into the architecture from end to end.
This document addresses different parts of a typical highly available two node configuration and provides StorMagic's guidance and best practices on how to ensure a high availability solution.
Complete the form below to read and download the full white paper.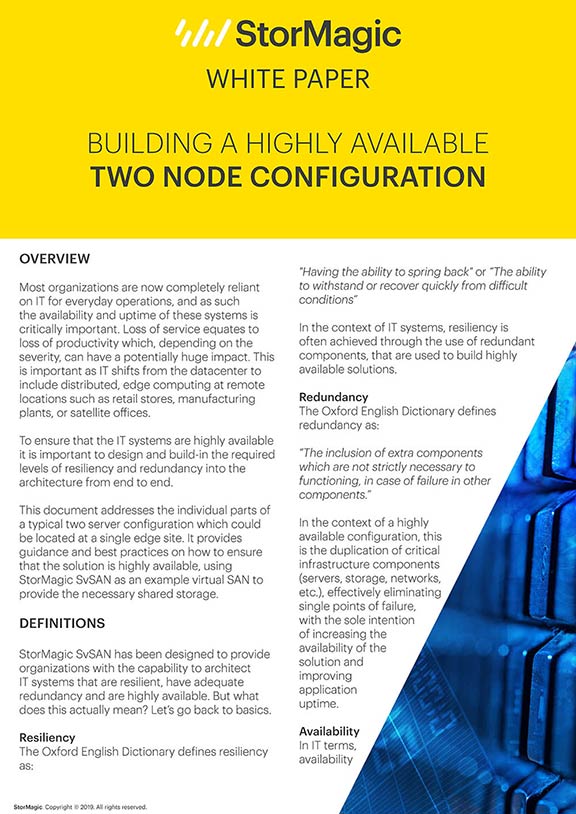 By clicking download above, you consent to allow StorMagic to store and process the personal information submitted and for StorMagic to contact you via telephone and email in relation to the content requested.
StorMagic is committed to protecting and respecting your privacy, and we'll only use your personal information to provide the products and services you requested from us. You may unsubscribe from StorMagic marketing communications at any time. For more information on how to unsubscribe, our privacy practices, and how we are committed to protecting and respecting your privacy, please review our Data Protection Policy.
Share This Post, Choose Your Platform!
More white papers from StorMagic: