Deploying solid-state disk (SSD) technology in enterprise environments as primary storage has gained a lot of interest in recent years with numerous SSD and flash array vendors starting up and coming to prominence. The main reason for the shift towards SSD technology can be attributed to the massive performance benefits it offers over traditional hard disk technology.
In order to make SSD technology attractive to enterprise remote and branch office (ROBO) deployments, where there are hundreds or even thousands of distributed locations the total cost of ownership (TCO) of the IT infrastructure using SSDs needs to reduce further.
This white paper discusses the factors that should be considered as part of the total cost of ownership (TCO) when deploying SSDs in the distributed enterprise.
Complete the form below to read and download the full white paper.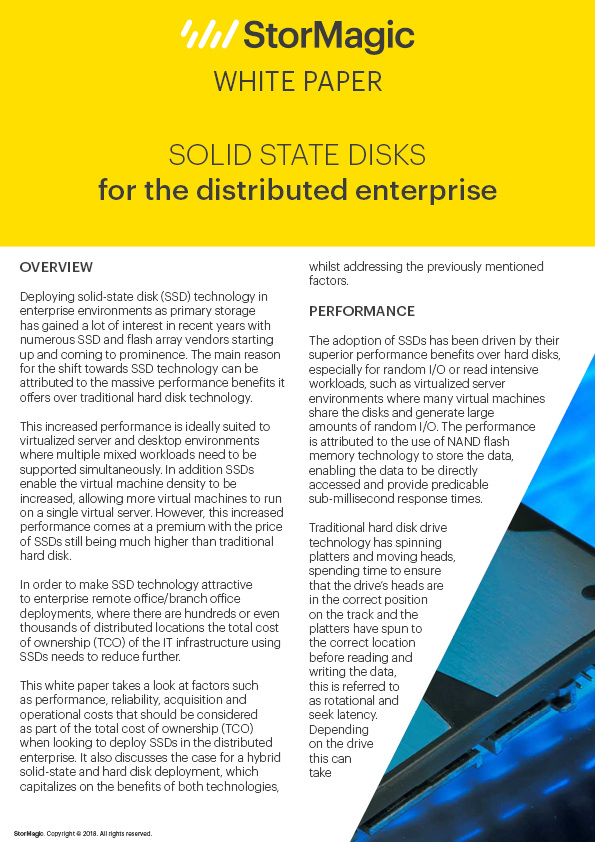 By clicking download above, you consent to allow StorMagic to store and process the personal information submitted and for StorMagic to contact you via telephone and email in relation to the content requested.
StorMagic is committed to protecting and respecting your privacy, and we'll only use your personal information to provide the products and services you requested from us. You may unsubscribe from StorMagic marketing communications at any time. For more information on how to unsubscribe, our privacy practices, and how we are committed to protecting and respecting your privacy, please review our Data Protection Policy.
Share This Post, Choose Your Platform!
More white papers from StorMagic: