Enable VMware Fault Tolerance for a low cost
Many use cases for IT require minimal to zero disruption to applications and services, however achieving zero downtime is a complex task.
Fault Tolerance is the property that enables a system to continue operating seamlessly in the event of the failure of (or one or more faults within) some of its components.
For IT operations, the requirements for Fault Tolerance are not just complex to implement but can come with a high price point. StorMagic SvSAN enables VMware Fault Tolerance out at the edge to enable customer-facing applications to benefit from the same levels of protection previously only available in the datacenter.
This white paper will examine an example use case of SvSAN and VMware Fault Tolerance, at the edge, in a multi-site architecture to demonstrate the levels of resiliency achieved from a low cost of entry point solution to scale to thousands of locations.
Complete the form below to read and download the full white paper.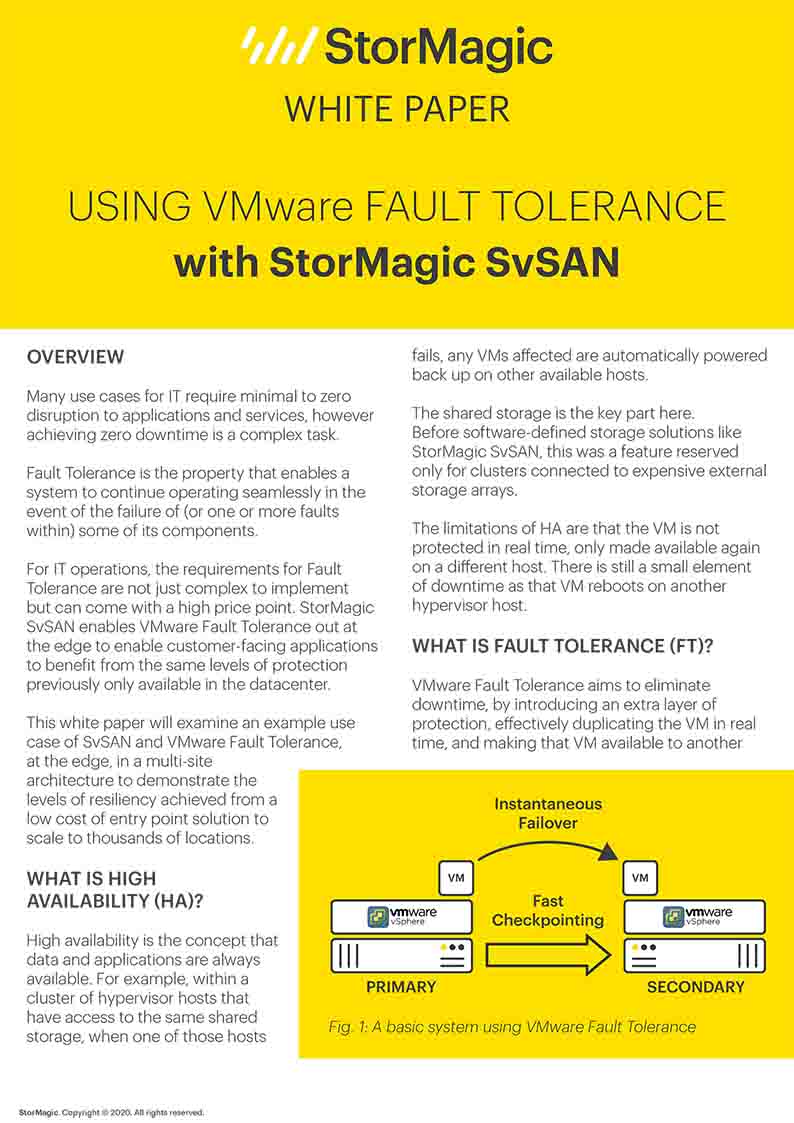 By clicking download above, you consent to allow StorMagic to store and process the personal information submitted and for StorMagic to contact you via telephone and email in relation to the content requested.
StorMagic is committed to protecting and respecting your privacy, and we'll only use your personal information to provide the products and services you requested from us. You may unsubscribe from StorMagic marketing communications at any time. For more information on how to unsubscribe, our privacy practices, and how we are committed to protecting and respecting your privacy, please review our Data Protection Policy.
Share This Post, Choose Your Platform!
More white papers from StorMagic: