SvSAN with Hyper-V
Virtual shared storage for Microsoft Hyper-V environments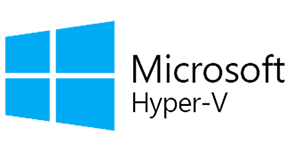 StorMagic SvSAN paired with Microsoft Hyper-V provides simple to manage and reliable shared storage without the need for expensive external storage arrays
Microsoft Hyper-V helps reduce capital expenditure and operational costs by consolidating more workloads onto fewer servers. This allows you to increase the agility, efficiency and flexibility of your on-premises IT resources.
Storage virtualization is the pooling of physical storage from multiple network storage devices into a single device managed from a central console. SvSAN is StorMagic's software-defined storage solution that enables you to simply and cost effectively virtualize your storage and modernize your IT infrastructure.
StorMagic SvSAN, installed as a virtual storage appliance, alongside Microsoft Hyper-V, enables you to benefit from virtual server features including:
Live Migration
Dynamic Optimization
Failover Cluster configuration – providing Hyper-V high availability
Together, SvSAN and Hyper-V enable organizations to expand virtual machine mobility and flexibility, handle multi-tenant environments, and build scale.
SvSAN and Microsoft Storage Spaces
SvSAN complements and works seamlessly with Microsoft Storage Spaces. It leverages the full set of features of both Hyper-V and Microsoft Storage Spaces to provide locally-protected, highly available, high performance shared storage without the need for hardware RAID adapters or external JBOD enclosures.
The simple and flexible architecture of SvSAN with Hyper-V and Storage Spaces is ideally suited to SME and ROBO environments, providing customers with a robust Hyper-V shared storage solution with minimal infrastructure footprint.
Read more about SvSAN with Microsoft Storage Spaces in this white paper.
Free Trial
Get started today – download a free trial of SvSAN and witness the power of virtualized storage
Video Guide
See how easy it is to install StorMagic on Hyper-V 2016 in this video from the StorMagic support team
In The News
How will the release of Microsoft Server 2016 affect the software-defined storage market?