Container Adoption Is on The Rise
Organizations utilize containers to improve speed, agility, and scalability in application deployment. Containers:
Provide more apps per single OS instance
Require little memory and launch quickly
Require less hardware and physical space
Accelerate time-to-value
Enhance developer productivity
According to Gartner, over 85% of global organizations will be using container applications in production by 2025, up from less than 35% in 2019, and over 80% of all ISVs will offer their software in containers in 2025, up from less than 10% in 2019.

Making The Edge Ready for Containers
Most container development and deployment has been in the datacenter. But most new data is generated at the edge and the time to move containers to the edge is now. StorMagic is making the edge ready for containers with our SvSAN Container Storage Interface (CSI) driver. The SvSAN CSI driver provides persistent, highly available storage for containers, and VMs, at the edge.
As customers begin to deploy containers at the edge, it is important to do so simply, in trusted environments, without significant additional costs. Many customers will migrate slowly from VMs to containers, moving one or a few applications at a time. And some applications may never move to containers. StorMagic SvSAN supports this "journey to containers" with support for VMs, containers, or both in the same 2-node highly available cluster.
The SvSAN CSI driver is a no-cost download for SvSAN and delivers on the tenets of StorMagic SvSAN: Simplicity, Cost-Effectiveness, and Flexibility.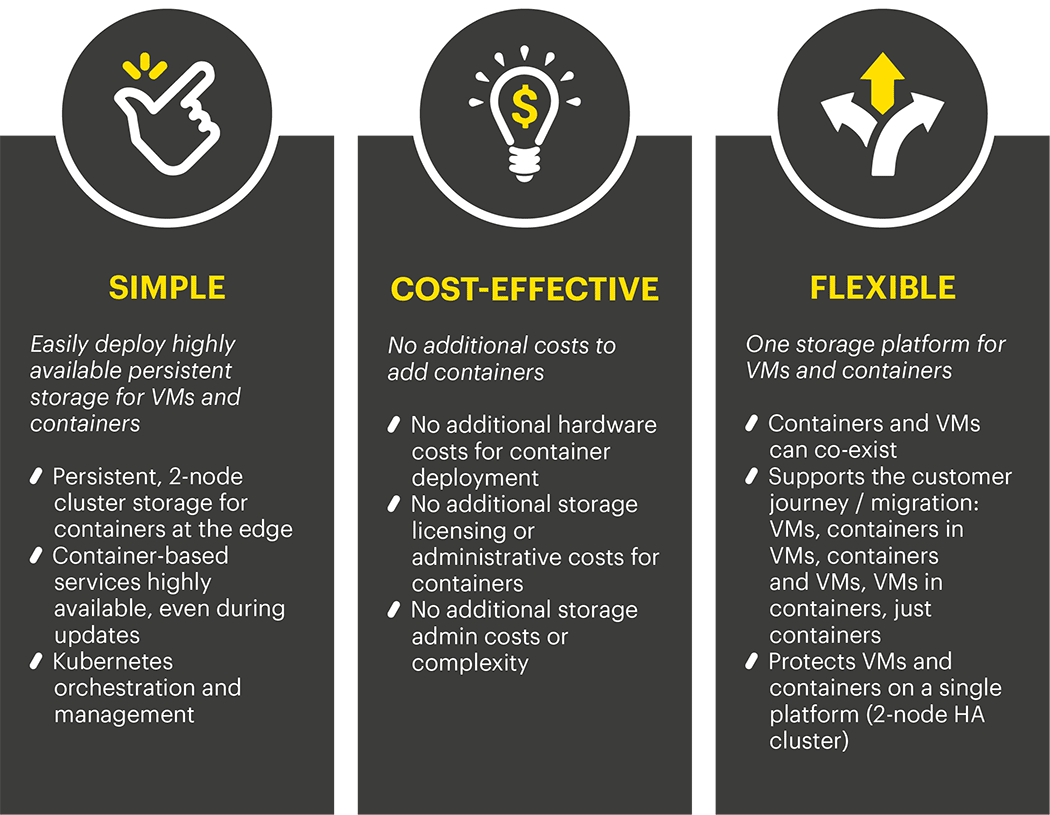 Benefits of SvSAN with CSI Driver
Persistent, high- availability storage for containers
One storage platform for VMs and containers
Transition to containers on existing SvSAN clusters
Synchronous mirroring – high availability for VMs and containers
Robust data protection – deploy and protect data in VMs and/or containers
One solution to manage
High performance and scalability
Cost savings – no-cost driver, no new hardware, use existing clusters
Retains all the benefits of SvSAN: 2-node HA clusters, centralized management, and a small footprint at the edge for VMs and now containers too.

SvSAN supports VMs and containers in the same cluster
System Requirements
The following versions are required to deploy containers on StorMagic SvSAN*:
SvSAN 6.2U5
SvSAN CSI 1.0.0
VMware vSphere 7.0
Kubernetes 1.19 or 1.20
VMware Tanzu Kubernetes Grid 1.2 (optional – for running Kubernetes workloads natively on the hypervisor layer)
*SvSAN CSI 1.0.0 currently supports containers in VMware environments only.
Download the SvSAN CSI data sheet:
Share This Post, Choose Your Platform!
More data sheets from StorMagic: