Harness the Edge with StorMagic SvSAN and HPE Edgeline
Protect and simplify the edge with an easy-to-deploy HPE Complete solution using StorMagic SvSAN and HPE Edgeline Converged Edge Systems.
The edge is where the action is
The edge is everywhere—a factory floor, a distribution center, a branch or office environment, a retail store, even a cell tower, or an oil rig in the middle of the ocean. All these environments have similar needs, including simplicity, reliability, and affordability. Hyperconverged infrastructure (HCI) solutions can be a great fit for the edge but are missing a critical requirement.
Hewlett Packard Enterprise and StorMagic have partnered to deliver a true edge HCI solution that was designed from the ground up to meet the stringent requirements found at the edge without the need for special enclosures. HPE Edgeline Converged Edge Systems are size, weight, and power (SWaP)-optimized high-performance platforms that are ruggedized and portable to meet the needs of a distributed edge. StorMagic SvSAN is the software layer that enables complete storage virtualization and high availability between only two physical servers per site. It sits on top of the hypervisor as a guest virtual machine and is fully compatible with VMware vSphere, Microsoft Hyper-V, and Linux KVM.
The combination of these two products creates the perfect edge compute/storage solution that is easy to install and manage, delivers high uptime, and is significantly less expensive than other enterprise HCI solutions on the market for edge use cases.
Protecting the edge
SvSAN turns the underlying storage of any HPE Edgeline system into highly available shared storage within clusters of two servers (nodes) or more. This enables high uptime and adds flexibility to internal storage resiliency, using StorMagic's built-in software RAID 10 while allowing high availability through synchronized mirroring.
There is plenty of resiliency built into the solution to help ensure operational readiness at all times. Software RAID keeps the HPE Edgeline system running without downtime if a drive were to fail. SvSAN's synchronous mirroring between servers ensures that there is an exact copy of all data on both servers so that if a server goes down, all applications will migrate to the surviving server. The edge applications keep running, the operations team fixes or replaces the failed server, and then the applications migrate back to the original server—all of this without any interruption to business operations.
SvSAN also supports the concept of a stretch cluster. The user can place the two servers from the pair in different buildings in the same general area or different cities. This protects against a local outage (power, flood, accident, and so on.) bringing down the whole operation. Regardless of whether the physical distribution of servers is near or far from each other, applications will run just as well.
Simplifying the edge
Providing highly available shared storage on a minimum of just two nodes in an HPE Edgeline system is a defining feature of SvSAN. This is enabled using a very lightweight witness service virtual machine, which can be deployed locally or remotely to the cluster and can provide quorum for a thousand clusters at a time. Minimal hardware requirements and simple installation can accelerate the deployment of a virtual SAN on the edge.
From a single site to thousands, StorMagic's centralized management can simplify provisioning, protection, and operation while eliminating the need for on-site expertise. StorMagic combined with HPE Integrated Lights Out (iLO) remote server management allows for the deployment, configuration, and upgrade of server clusters without on-site specialists. HPE iLO allows you to easily configure, monitor, and update your HPE servers seamlessly from any location, while helping ensure high levels of system security from the silicon root of trust upwards.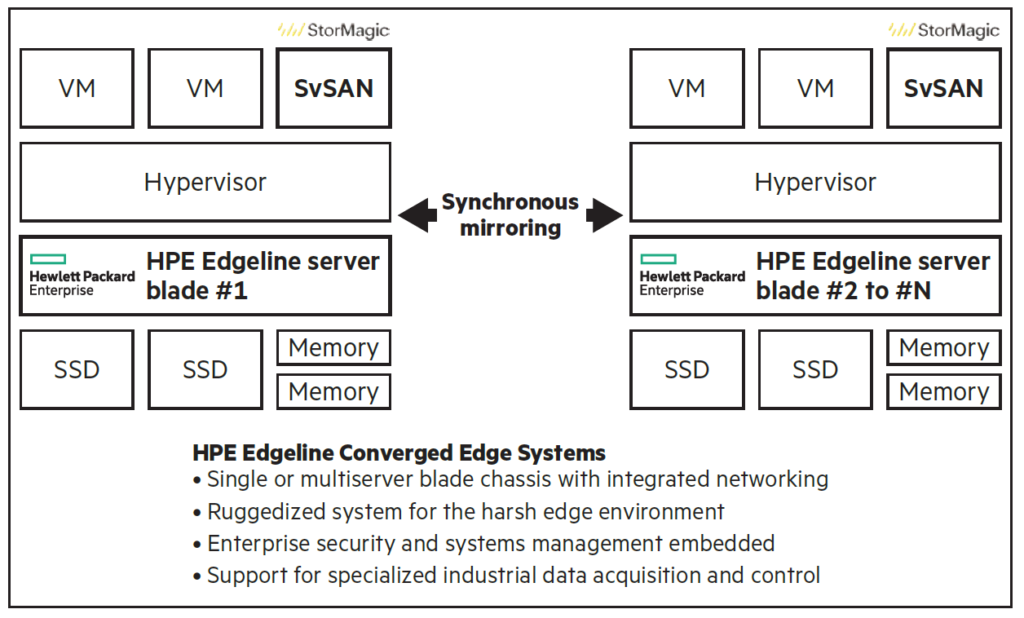 HPE Edgeline systems are purpose-built for the rugged edge and support multiple server blades hosted in a single cluster-ready enclosure while providing unprecedented high‑performance compute that is SWaP-optimized. All of this is accomplished without the need for a special enclosure to protect the HPE Edgeline system. The HPE Edgeline EL1000 provides a compact single-server, wireless-enabled system suitable for deployment in locations like retail and utilities. Whereas, the HPE Edgeline EL4000 has four of the same server blades in a single 1U chassis with integrated networking to build a cluster without requiring top-of-rack (ToR) switches.
The HPE Edgeline EL8000 series delivers flagship levels of edge compute with support for top-tier Intel Xeon Scalable processors, Intel FPGAs, and NVIDIA GPU accelerators, while still providing benefits of cluster-ready chassis networking and HPE iLO 5 level security. All these products are qualified to run SvSAN and provide a highly available lightweight HCI solution for customers operating in the harsh environment of the edge.
Minimal deployment, configuration, and physical requirements combined with unrestricted remote management makes StorMagic SvSAN and HPE Edgeline Converged Edge Systems a powerful and flexible solution designed specifically for the edge.
HPE Complete benefits
StorMagic is part of the HPE Complete program offering these benefits to joint customers:
Convenience—Delivering complete HPE and third-party workload solutions with custom automation and orchestration tools for simplified integration, all on a single purchase order with options for HPE GreenLake pay per use.
Confidence—Third-party products delivered by trusted HPE have HPE Complete Assured validation, compatibility, and interoperability to ensure solutions not only work at the time of deployment but also have concurrency into the future.
Simplicity—Easy to follow HPE and third-party product integration and sizing guides are made available.
Learn more at:
Download the SvSAN & HPE Edgeline solution brief in PDF format:
Share This Post, Choose Your Platform!
More data sheets from StorMagic: