StorMagic SvSAN
Data at and from the edge is

essential
Keep yours available with StorMagic SvSAN
Benefits
StorMagic SvSAN simplifies storage at the edge. Run your apps with ease and 100% uptime.
Eliminates the need for physical SANs
Provides high availability and security with only 2 nodes
Can be deployed at 1,000 sites as easily as 1
Supports VMs, containers, or both
Runs on any x86 server, all types of storage, and any CPU
Any x86 server
Turns underlying storage of any x86 server into highly available shared storage within clusters of two servers (nodes) or more.

Sits on top of the hypervisor as a guest virtual machine, and is fully compatible with VMware vSphere, Microsoft Hyper-V, and Linux KVM
High Availability
Shared storage works through active-active synchronous mirroring between two servers

Ensures there is always an exact copy of data on each server

If one server fails or is taken offline, the remaining server continues to operate, providing no disruption in service to the organization, and no downtime
Lightweight Witness
Provides highly available shared storage on just two nodes

Can be on-site or remote to the cluster

Provide quorum for up to 1,000 clusters at a time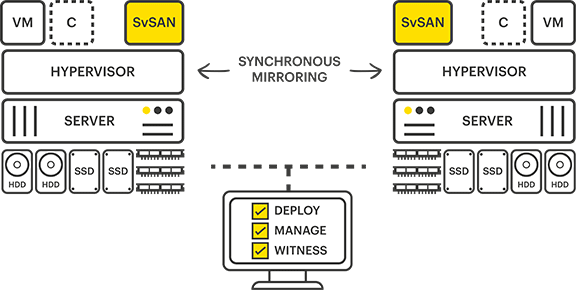 Product Introduction to SvSAN
This Product Introduction document for SvSAN provides a high level explanation of the product, its use cases and benefits, without digging into technical specifications or requirements. It is the perfect document for an initial investigation into SvSAN, regardless of your technical experience.
Complete the form opposite to read and download the full document, and begin your learning!
By clicking download, you consent to allow StorMagic to store and process the personal information submitted and for StorMagic to contact you via telephone and email in relation to the content requested.
StorMagic is committed to protecting and respecting your privacy, and we'll only use your personal information to provide the products and services you requested from us. You may unsubscribe from StorMagic marketing communications at any time. For more information on how to unsubscribe, our privacy practices, and how we are committed to protecting and respecting your privacy, please review our Data Protection Policy.
Capabilities
There are many ways to deploy, use, and scale SvSAN to meet your exact needs. SvSAN has over a dozen enterprise-grade features included with the base license, and you can choose how to implement, what else you need, and how you will grow.
See how others are using SvSAN as part of their
forever data solutions