SvKMS with Nutanix
Enable encryption in Nutanix Prism with a separate, centralized key manager
Nutanix Ready key manager for Nutanix software encryption and self-encrypting drives
StorMagic SvKMS is a Nutanix Ready certified key manager, enabling Nutanix Prism users to encrypt their data through the use of software-based data-at-rest encryption and self-encrypting drives (SEDs), and therefore separate encryption and key management roles.
Nutanix Prism is a hyperconverged solution that combines storage, networking and virtualization into a single appliance. Combining StorMagic SvKMS with Nutanix Prism allows for simple, centralized management of the Key Encryption Keys (KEKs) used to protect the Nutanix Data Encryption Keys (DEKs).
How to integrate Nutanix Prism with StorMagic SvKMS
StorMagic is part of the Nutanix Elevate Technology Alliance Partner Program and as part of this program membership, has validated SvKMS on Nutanix solutions to enable external key management. StorMagic SvKMS integrates with Nutanix Prism by using the KMIP (Key Management Interoperability Protocol) open standard. This universal and widely-adopted integration method ensures a smooth and seamless connection between the two platforms.
Rather than only use SvKMS as a key manager for Nutanix encryption, it can also provide centralized key management for every encryption workload within an organization. With its KMIP, BYOK and REST API functionality, StorMagic SvKMS can integrate with any encryption use case. It therefore provides hassle free management of encryption keys from a single pane of glass.
In summary, to connect SvKMS with Nutanix Prism, the steps below must be followed:
Configure and output Certificate Signing Request in Nutanix Prism
Create a new group in SvKMS
Create a new user in SvKMS. This account must be associated with an authentication certificate
Generate an RSA Key to use when creating a new CA in SvKMS
Create a new CA in SvKMS
Sign Nutanix CSR with SvKMS CA
Add a new Key Management Server to Nutanix Prism
Full integration instructions can be viewed in the integration guide available via the form below.
StorMagic SvKMS is compatible with the Nutanix AHV hypervisor too
When selecting the configuration on which to deploy StorMagic SvKMS, Nutanix users will be pleased to note that the key management software is fully compatible with the Nutanix AHV hypervisor. Deploy SvKMS on AHV and leverage all of the features and benefits available from the software. The flexibility of StorMagic SvKMS ensures it is compatible with any hypervisor, including AHV, ensuring organizations have the freedom to deploy as they wish, and if required, move to another hypervisor without penalty.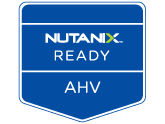 Nutanix Prism Integration Guide
Start using software-based data-at-rest encryption and self-encrypting drives within Nutanix Prism and benefit from increased data security by connecting the solution with StorMagic SvKMS encryption key management. Using the KMIP standard for seamless integration, SvKMS provides simple, centralized key management for Nutanix clusters.
For a complete step-by-step integration guide for configuring Nutanix Prism and SvKMS, complete the form opposite.
By clicking download, you consent to allow StorMagic to store and process the personal information submitted and for StorMagic to contact you via telephone and email in relation to the content requested.
StorMagic is committed to protecting and respecting your privacy, and we'll only use your personal information to provide the products and services you requested from us. You may unsubscribe from StorMagic marketing communications at any time. For more information on how to unsubscribe, our privacy practices, and how we are committed to protecting and respecting your privacy, please review our Data Protection Policy.
More information on StorMagic SvKMS
StorMagic SvKMS encryption key management goes much further than just providing simple KMIP integration with leading encryption workloads. SvKMS enables organizations to manage all of their encryption keys, wherever they are located, within a secure, flexible management interface. Enterprise-grade features enable the management of the entire key lifecycle, from key creation to key destruction, and all at a surprisingly low cost.