Hyperconverged infrastructure (HCI) promises elegant simplicity in the datacenter: Networking, storage, and compute on commodity hardware that lets you scale capacity and performance when you need it. The reality is much different. Complexity of both the implementation and ongoing management can vary significantly, depending on the underlying architecture and the workloads running on top of it.
Since there are a bewildering array of solutions on the market today, IT professionals who are evaluating HCI solutions need to start out with clear goals and criteria in mind. One of the key choices is whether to build your own HCI with off-the-shelf hardware and an independent software platform, or use pre-configured appliances from one vendor.
This white paper examines six dynamics for you to consider when choosing between preconfigured appliances or the build your own approach:
Flexibility to adapt or evolve
Predictability of growth
Initial performance requirements
Small vs. large sites
Maintain standard hardware platforms
Vendor lock-in
Complete the form below to read and download the full white paper.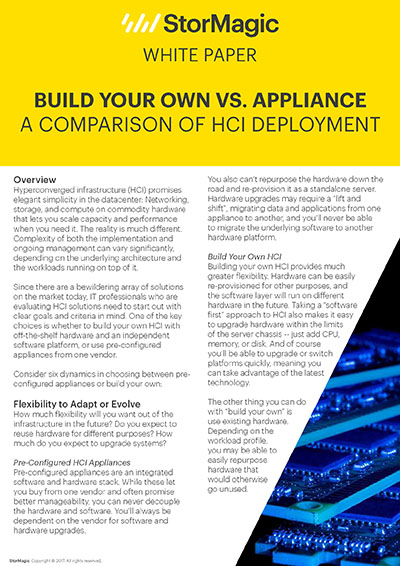 By clicking download above, you consent to allow StorMagic to store and process the personal information submitted and for StorMagic to contact you via telephone and email in relation to the content requested.
StorMagic is committed to protecting and respecting your privacy, and we'll only use your personal information to provide the products and services you requested from us. You may unsubscribe from StorMagic marketing communications at any time. For more information on how to unsubscribe, our privacy practices, and how we are committed to protecting and respecting your privacy, please review our Data Protection Policy.
Share This Post, Choose Your Platform!
More white papers from StorMagic: