Ensuring branch office uptime is one of the highest priorities for enterprise IT. However, the acquisition, deployment and management costs associated with achieving this kind of high availability often make it challenging to deliver.
Advancements in cloud and data center consolidation have ignited a debate over which kind of storage infrastructure – centralized or decentralized – is better suited to their multi-site IT environments.
This white paper compares each approach and explores how the right Virtual Storage Appliance (VSA) solution can bridge the divide between centralized and decentralized IT. The key challenges addressed are:
Ease of management
Cost and efficiency
Time to deploy
Complete the form below to read and download the full white paper.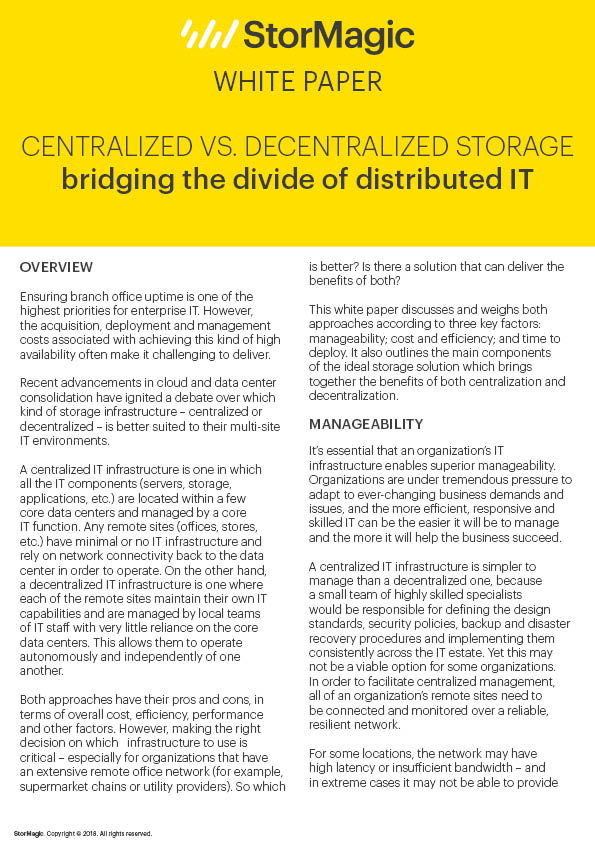 By clicking download above, you consent to allow StorMagic to store and process the personal information submitted and for StorMagic to contact you via telephone and email in relation to the content requested.
StorMagic is committed to protecting and respecting your privacy, and we'll only use your personal information to provide the products and services you requested from us. You may unsubscribe from StorMagic marketing communications at any time. For more information on how to unsubscribe, our privacy practices, and how we are committed to protecting and respecting your privacy, please review our Data Protection Policy.
Share This Post, Choose Your Platform!
More white papers from StorMagic: