The video surveillance industry has been undergoing technological transformations since its inception – from VCRs and coax cables through to today's digital HD cameras connected over a network. But there are several shortcomings in current video surveillance storage systems that need to be overcome for the practical long-term retention and usefulness of surveillance video. This white paper provides a discussion on what a modern video management system (VMS) should include and the issues it should address, such as:
Support for thousands of cameras, camera standards, and continuous recording
Scalable and flexible viewing and video wall implementations for operator ease and insight
Ability to retain video for long periods of time, securely, with the ability to meet any retention, compliance, and legal requirements
Simple and intuitive search using metadata and other markers to get what is needed quickly
Systems that are reliable, available, and easy to manage
Systems that help provide analysis and identify new opportunities through metadata and content tagging
Control or reduction of costs while adding functionality
The white paper demonstrates how StorMagic ARQvault's video surveillance solution can address these issues in a thorough technical examination. It is the definitive document for providing a complete picture of ARQvault's capabilities and benefits for video surveillance use cases.
Complete the form below to read and download the full white paper.
Looking for system requirements and compatibility information? Then you need the ARQvault Video Surveillance Data Sheet, available here.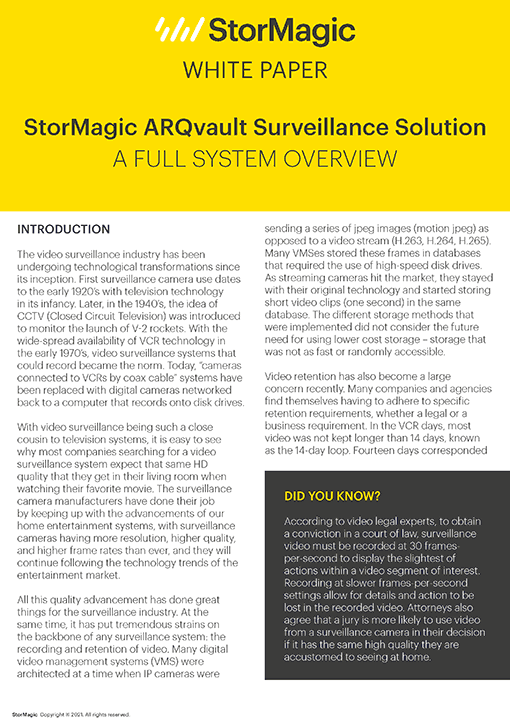 By clicking download above, you consent to allow StorMagic to store and process the personal information submitted and for StorMagic to contact you via telephone and email in relation to the content requested.
StorMagic is committed to protecting and respecting your privacy, and we'll only use your personal information to provide the products and services you requested from us. You may unsubscribe from StorMagic marketing communications at any time. For more information on how to unsubscribe, our privacy practices, and how we are committed to protecting and respecting your privacy, please review our Data Protection Policy.
Share This Post, Choose Your Platform!
More white papers from StorMagic: