One of the biggest challenges faced by storage administrators is data migration, either to different storage arrays or between different storage tiers within the same array. Added to this, the migrations need to be performed online, without impacting application service availability or performance.
Migrations are performed for a number of reasons:
Use storage tiering for cost and performance reasons
Replace end-of-life or out-of-contract lease equipment
Utilize newer technology
Application segregation/isolation
Workload optimization
Download this white paper to learn about the SvSAN Volume Migration feature and see how it addresses these challenges and simplifies storage migrations.
Complete the form below to read and download the full white paper.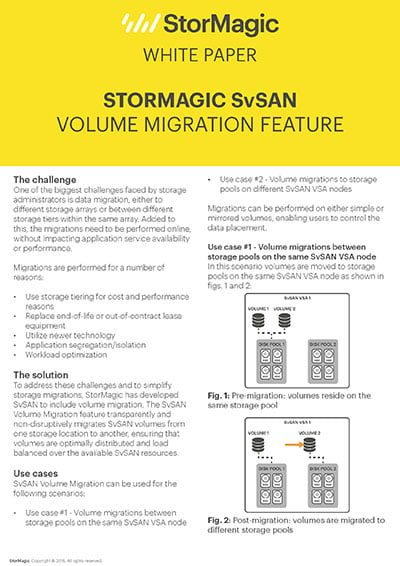 By clicking download above, you consent to allow StorMagic to store and process the personal information submitted and for StorMagic to contact you via telephone and email in relation to the content requested.
StorMagic is committed to protecting and respecting your privacy, and we'll only use your personal information to provide the products and services you requested from us. You may unsubscribe from StorMagic marketing communications at any time. For more information on how to unsubscribe, our privacy practices, and how we are committed to protecting and respecting your privacy, please review our Data Protection Policy.
Share This Post, Choose Your Platform!
More white papers from StorMagic: