One key concept that was introduced in Windows Server 2012 is Storage Spaces. Storage Spaces enhances the storage features delivering storage virtualization capabilities that simplify the storage infrastructure. StorMagic's virtual storage appliance (VSA), SvSAN complements Storage Spaces, enabling customers to provide a robust shared storage solution with a minimal infrastructure footprint, optimized for the distributed enterprise.
You will learn how the combined solution:
Simplifies the storage architecture
Reduces CAPEX and OPEX costs
Improves scalability of clusters
Enables use of any x86 server
Supports Microsoft Hyper-V features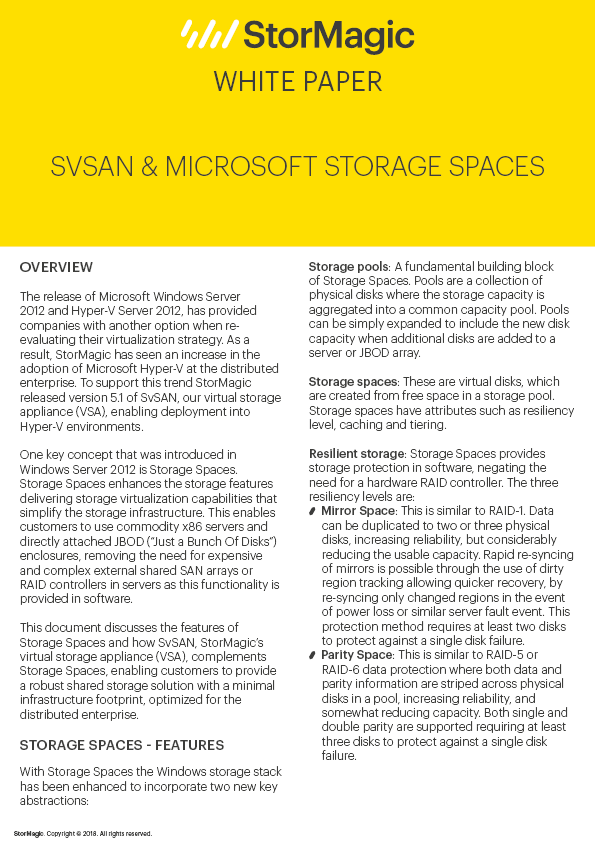 By clicking download above, you consent to allow StorMagic to store and process the personal information submitted and for StorMagic to contact you via telephone and email in relation to the content requested.
StorMagic is committed to protecting and respecting your privacy, and we'll only use your personal information to provide the products and services you requested from us. You may unsubscribe from StorMagic marketing communications at any time. For more information on how to unsubscribe, our privacy practices, and how we are committed to protecting and respecting your privacy, please review our Data Protection Policy.
Share This Post, Choose Your Platform!
More white papers from StorMagic: