Eliminating application downtime for distributed enterprise
Click here to download this solution brief in PDF format.
One of the greatest challenges of multi-site organizations is to ensure the uptime and availability of business critical applications in lean IT environments. This becomes even more challenging as organizations strive to reduce capital and operating expense.
This is now achievable through combining the leading, software-defined storage solution from StorMagic with the latest in server technology from Cisco. This joint solution allows the edge enterprise to deploy a data storage infrastructure that works for its multi-site nature.
What is StorMagic's SvSAN?
SvSAN is a software solution which enables enterprises to eliminate downtime of business critical applications at remote sites, where this disruption directly equates to a loss in service and revenue. SvSAN ensures high availability through a virtualized shared storage platform, so that business critical applications remain operational.
StorMagic's typical customer has anywhere between 10 – 10,000 sites, where local IT resource is not available, but uptime of applications is a must.
SvSAN provides an an intuitive, standardized management interface that allows multiple SvSANs, spread across remote sites, to be managed and provisioned quickly and simply either locally, or remotely, from a central location. SvSAN's efficient and flexible architecture and its modular approach enable it to meet the ever-changing and increasingly demanding storage requirements within any organization.
SvSAN's unique benefits include:
Abstraction of storage services away from traditional storage arrays, making it a key component of a software-defined storage strategy
Elimination of the need for a physical Storage Area Network (SAN)
Virtualization of internal disk drives and external, direct-attached storage arrays (DAS) to enable storage sharing among multiple servers
High availability in a simple two-server solution (the only software that can do so)
At least 33% lower capital acquisition cost for distributed environments
Over 40% lower TCO through reduced power and cooling costs, decreased sparing and maintenance costs and minimized need for dedicated IT resources
Maximized application uptime
Centralized storage management of entire multi-site infrastructure
Rapid, scripted deployments and updates of multiple sites simultaneously with automated provisioning
Optimal flexibility, as SvSAN is hardware and hypervisor agnostic and can scale as storage requirements grow
Fast resynchronization through restore capability, enabling users to replace a failed server with a new one and automatically rebuild their environment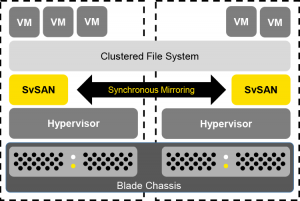 What are Cisco UCS E-Series servers?
Cisco UCS E-Series servers are virtualization-ready, high-density, single-socket blade servers designed to balance simplicity, performance, and application density while operating in an energy-efficient environment. These powerful, small form factor, x86 64-bit blade servers are housed within Cisco Integrated Services Routers Generation 2 (ISR G2) networking platforms and are designed to host essential infrastructure services and mission-critical business applications in the distributed enterprise.
Cisco UCS E-Series rack servers provide the following benefits:
A blade server form factor that accelerates and simplifies physical server provisioning and system maintenance
Lower TCO by reducing server hardware shipping costs, power consumption, cooling, cabling, space, and support costs
Built-in, lights-out server management through CIMC provides remote server monitoring and configuration management for virtualized and bare metal deployments
A scalable infrastructure that offers protection of infrastructure investment
These price-to-performance-optimized, single-socket blade servers balance simplicity, performance, reliability and power efficiency. They are well suited for applications and infrastructure services typically deployed in small offices and branch offices.
Solution applications
The combination of SvSAN with Cisco UCS E-Series servers is an ideal solution for multi-site organizations in many industries, including:
Retail – systems such as stock control, customer & staff management and point-of-sale optimization
Government – diplomatic communication platforms
Defense – battlefield control systems
Manufacturing – process control
Financial services – customer transactions
Restaurant and hospitality – booking and kitchen order systems
Transportation – vehicle positioning and monitoring
Energy production – remote power generation plant control
Medical – PACS
Solution benefits
StorMagic and Cisco deliver to the edge:
Lower cost-of-entry for shared storage in virtualized environments
A hypervisor-agnostic storage infrastructure, accommodating both VMware ESX & Microsoft Hyper-V implementations
Unique multi-site features, such as a simple 2-server configuration
High Availability of local storage
Centralized management
Easy, automated deployment
For more information
To learn more about StorMagic's SvSAN visit stormagic.com/svsan. For more information on Cisco UCS E-Series servers, please visit: the Cisco website.