It's a great day to celebrate at StorMagic!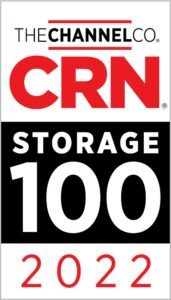 CRN®, a brand of The Channel Company, has named StorMagic to its annual Storage 100 list in the Data Management category. The Storage 100 honors the best-in-class storage vendors that provide innovative products and services to the IT channel. StorMagic was also named a "Top 20 Coolest Vendor in Data Management" as part of this editors' choice program.
CRN's Storage 100 list is selected by a panel of CRN editors and recognizes vendors across software-defined storage, data protection, data management and storage components. This year's list represents the industry leaders of storage technology that can be used for traditional on-premises or cloud deployments.
The vendors recognized on the 2022 Storage 100 list were selected because of their demonstrated commitment to developing cutting-edge technology and building strategic partnerships. The list acts as a resource for solution providers from the IT channel that are looking for vendors with industry-leading offerings to form the basis of cutting-edge solutions.
"CRN's Storage 100 list celebrates the vendors that bring innovative technology to the IT channel at a time when the importance and prevalence of data has never been greater, regardless of company size," said Blaine Raddon, CEO of The Channel Company. "We are honored to recognize their contributions as the leading players in storage technology for 2022."
The CRN Storage 100 list will be featured in the April 2022 print issue of CRN Magazine and is now online at www.crn.com/storage100.
Share This Post, Choose Your Platform!
Recent Blog Posts